Geneva, 14 January 2022 -
The Global Nutrition Report 2021 estimates an additional USD 39 to 50 billion is needed every year to close the finance gap and reach the nutrition targets of Sustainable Development Goal 2 'Zero Hunger'. Today, 3 billion people, including three-quarters of all Africans, cannot afford a healthy diet.
These goals cannot be met by simply improving targeting or increasing spending efficiency. Innovative methods of resource mobilisation are needed to increase overall funds dedicated to nutrition and to consciously target them towards the high priority needs of the most vulnerable. This is exactly what the Nutritious Foods Financing Facility – or N3F – aims to do. N3F's innovative approach to nutrition financing was explored in a Nutrition for Growth (N4G) side-event titled Nutritious Foods Financing Facility, a blended finance approach on 1 December 2021.
Small and medium enterprises (SMEs) are a critical engine of transformation: they are the backbone of many food systems. In Africa, for example, they produce over half of calories and over 80% of animal-source foods, fruits, and vegetables, while processing or handling about 65% of food in later stages of the value chain. For low-income consumers in particular, SMEs are essential for ensuring access to nutritious, safe foods. Unfortunately, despite their clear importance, SMEs are a neglected engine of transformation.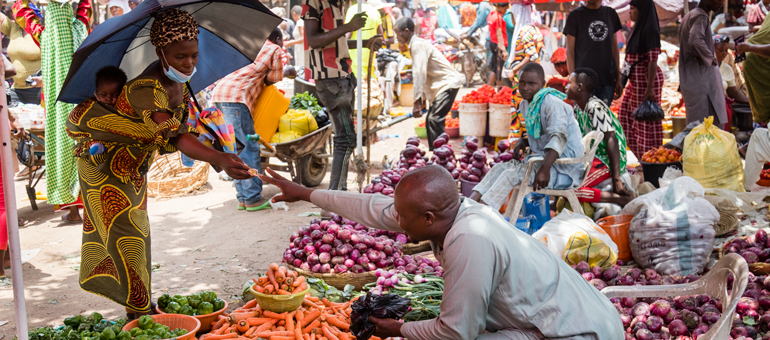 SMEs are the quiet revolutionaries, as a collective the most important for those that are at risk of malnutrition. 
Even though these enterprises play such an essential role in food systems, they struggle to access the financing necessary to scale up their offerings to increase the availability and accessibility of nutritious, safe foods. Winnie Wandimi, Founder and Managing Director of Wimssy Ltd, a diary processing SME, is all too familiar with this issue, as a female entrepreneur in Kenya. She explained how entrepreneurs, and especially women entrepreneurs, often lack the collateral required by banks, or the financial resources to collect data for their market research. The inflexibility of banks to ensure quick transfer of approved finance, or to adjust payment schedules to consider seasonality or other conditions are some additional problems often experienced. These circumstances combine to limit the growth and performance of SMEs.
The Nutritious Foods Financing Facility aims to address these problems through a blended finance approach that focuses on improving nutrition by supporting SMEs in Sub-Saharan Africa. The fund is backed by the United States Agency for International Development (USAID), Eleanor Crook Foundation, Incofin Investment Management and the Global Alliance for Improved Nutrition (GAIN). This first-of-its-kind nutrition impact fund aims to catalyse private-sector financing for SMEs to help scale up the production and sale of locally produced nutritious, safe foods destined for domestic markets. 
As a first of its kind, N3F can serve as a quality proof of a concept that can provide a pathway forward for larger scale transformation. USAID has therefore committed $1 million USD to the first loss tranche of the fund. 
How will it work? N3F is an impact-first fund which will use a blended finance structure. With such a structure, N3F can attract a variety of investors interested in contributing to improved nutrition in Sub-Saharan Africa. Incofin Investment Management, with over 20 years of experience in managing impact funds and investments in emerging countries, will be N3F's fund manager.  
The blended finance structure of N3F is tailored to allow different donors and investors the opportunity to participate.
The Nutritious Foods Financing Facility will provide targeted funding to SMEs based on their financial needs and their ability to absorb and use the funds. With consumer nutrition at its core, N3F will have a holistic approach to impact and assess how SMEs support gender equity, environmental sustainability, engagement of consumers and suppliers, and employment. 
To ensure the power of SMEs to deliver nutritious, safe foods is fully unleashed, N3F will also provide support beyond financing, through a technical assistance and impact monitoring component. These components are both led by GAIN, drawing on several years' prior experience of providing technical assistance to SMEs. 
Crucially, the technical assistance component will build capacity of SMEs with a focus, on the one hand, on improved business management practices, and on the other hand, on improving nutrition and food safety. 
The final component focuses on impact monitoring, learning, and influencing the enabling environment for investing in nutrition. Currently, there are no agreed-upon metrics that define nutrition as an investment theme, which limits investor interest. To address this, N3F has developed and will be validating metrics for targeting nutrition-sensitive investments, thereby aiming to prove that financing nutritious foods through SMEs works and can be taken up by mainstream lenders.
Together, the fund, the technical assistance, and the impact monitoring components constitute the three pillars of N3F. 
Songbae Lee, Agriculture Finance Team Lead at USAID, believes one of the strengths of N3F is that it brings together two equal partners with different skill sets: GAIN as a nutrition expert, and Incofin as an experienced fund manager. Elaborating on USAID's decision to contribute USD 1 million to the first-loss tranche of the fund, he explained that for USAID it is important to move beyond supporting the technical assistance and impact monitoring components and invest in the fund itself. With this contribution, USAID demonstrates its support for both the investment and impact design of N3F, thereby contributing to two elements that investors are looking for: a de-risking mechanism and a signal that serious partners are involved. 
Jesse Corradi, Managing Director for Africa at the United States International Development Finance Cooperation (DFC), outlined the larger context of the Global Nutrition Financing Alliance, which is a collaboration between DFC, the Eleanor Crook Foundation, and USAID that aims to mobilise investments of up to USD 100 million in nutrition-focused business over the next five years. 
N3F is a pioneer, taking the first step in transforming finance for nutrition and aiming to demonstrate that investors, SMEs, and consumers can all win. Succeeding in pioneering is not easy, but bold and committed partners make the journey smoother. GAIN, Incofin, USAID and Eleanor Crook Foundation therefore invite all interested parties to engage with N3F on its journey to mobilise finance for a healthy, nutritious, and prosperous future. 
Please see the recording of the N4G side-event Nutritious Foods Financing Facility – A blended Finance Approach here, and the event page here. For more information about N3F you can visit the program page. 
 
Videos
---