Geneva, 8 October 2020 -
Eggs are packed with essential fatty acids, vitamins and minerals, but too few enjoy access to this critical source of protein. This week, GAIN is celebrating this "super food" and honouring the contributions of "food heroes" - individuals who throughout the COVID-19 pandemic have continued to bring eggs to market and onto the table, especially for young children.  
Fueling growth and boosting development
Enter the humble egg. Eggs are a rich source of the nutrients for pregnant women and breastfeeding mothers. They help a baby to grow and develop inside and outside the womb - with the potential to improve birth outcomes, milk quality, and physical and mental growth. Eggs are among the most nutritious foods during early stages of development because they are easily digested and contain high concentrations of quality nutrients.  
Eggs are highly nutritious, but they remain scarce and relatively expensive in many low-income settings, including among many of the countries where GAIN operates. 
Food heroes
In 2020, throughout the COVID-19 pandemic egg producers from Ethiopia, Nigeria and Rwanda are some of the many food heroes being celebrated on World Egg Day and World Food Day for continuing to provide food to their communities and beyond, helping to grow, nourish and sustain our world. These Food Heroes are an example of how a combination of partnerships, investment and the perseverance of individuals ensure that food reaches children and their families - no matter what the circumstances.
Ethiopia
Berhe Abay Medhanye, 51, ventured into poultry production in 2018 after spotting the opportunity to meet a huge local demand for chicken and eggs in his home town of Aksum, an ancient city of more than 70,000 residents located in the north of Ethiopia. Medhanye started his business with an initial investment of ETB 15,000 ETB (USD 470) and is now tending 1210 chickens with a daily production of 490 eggs per day.  
A passionate supporter of eggs as an affordable and nutritious food source, Medhanye began working with GAIN when it kicked-off an egg demand creation campaign that engaged families through community-based activities, at points of purchase and through media.
So deep was his commitment, that he not only supplied eggs at a price well below market value but also established a distribution chain with selected retail outlets.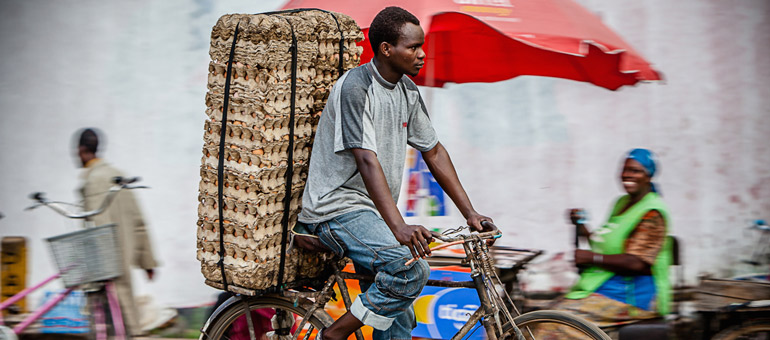 Medhanye is grateful for the opportunity to help his community and has witnessed the difference that add eggs makes to the development of children in particular. "I am lucky because through my daily work as an egg producer, I can feed my children," He says. "This shows me the importance of eggs for a child's growth. That is why I support what GAIN is doing in our town."
Despite the disruption and lockdowns caused by the COVID-19 epidemic, Medhanye continues to operate a thriving business. "But I would like to see this grow and reach many more people who need the education to change their children's wellbeing", he says. "I am happy to see something like this is being done in my town."
Rwanda
Rwanda is a tiny land-locked nation located in the mountainous region of the Great Lakes area of Africa. In 2017, Jean Baptiste Musabyimana, realized that no one was supplying poultry and eggs to his community. That year, he transformed his 14 hectare farm into a poultry businesss that now meets the needs of 90 villages throughout the Bugesera district. Today, he is General Manager of Agri-Business Solutions Limited (ABUSOL Ltd). 
Musabyimana now presides over a thriving business that produces eggs and animal feed for his own farm and that of others throughout the district. He also supports a network of poultry farmers with a range of services including supplying chicken feed, day-old chicks, ready-to-lay pullets as well as providing technical training to facilitate partners as they access consumers at the top of the value chain. 
In Rwanda, COVID-19 has taken a heavy toll on small- to medium-sized poultry farmers. Food chains have been disrupted, informal markets closed and many farmers are unable to afford feed or cover basic operating costs.  
ABUSOL stepped in to the gap. Musabyimana mobilised his connections with local and foreign networks to find the raw materials necessary to feed a total of 225,000 hens. His company particularly focused on cash-strapped breeders who were having problems selling their product. Thanks to his work, farmers and vendors are continuing to distribute eggs to 20,000 households. 
"I don't measure ABUSOL business success by only looking at its financial benefit," says Musabyimana. "During these hard times, I felt a responsibility for my community because their health and safety is a guarantee for sustainable impact of my business,"
"That counts as a major success."
Nigeria
Influential and highly-placed public figures can play a significant role in encouraging the public to demand for affordable and nutritious foods.  
That's why GAIN is recognising the work of Her Excellency Aisha Ummi Garba El-Rufai of Nigeria, Chairperson of the Kaduna State Emergency Nutrition Action Programme (KADENAP) and wife of the state governor. She is an outstanding nutrition champaion and works tirelessly to inspire the people of Kaduna State to embrace good nutrition.
Her support for the Eggs Makes Kids Campaign is why GAIN is naming her a Food Hero for 2020. Her team have actively promoted egg consumption amongst children 6-59 months of age. 
The campaign, which will continue to run throughout 2020 and beyond, encourages parents to feed eggs to their children via a poster campaigns, community and retail activities and mass communications channels. 
Nigeria is home to yet two more "food heroes". Alhaji Nura Shuaibu, is a 46-year-old businessman that started his poultry business in 2016 after being inspired by a huge demand for eggs. He started production in farm, which is located in Kawo, in the northern state of Kaduna.  With a small initial investment he is now tends 1620 hens with a daily production of 3230 eggs per day. 
Nura is also actively supporting state government initiatives to promote the nutrition of children though school feeding programmes. He also working with the Poultry Association of Nigeria to promote eggs and is collaborating with retailers and vendors to them to as many low-income consumers as possible. 
He is a key player in GAIN's egg demand creation campaign and has worked closely with field staff during sensitization activities and door-to door-activation campaigning. As part of the community, he offers a unique perspective by passionately supporting eggs as a high nutrient food that can combat malnutrition and improve lives. 
Chigozie Ndubueze, 49, launched his poultry business in 2017, in his home town of Narayi located in Kaduna south. Today, his farm houses 1150 hens with a daily production of 1430 eggs. 
Like Nura, Ndubueze, is supporting state government initiatives to bring eggs to school children and is working with the Nigeria Egg Association to supply eggs to retailers and vendors throughout the state. 
Ndubueze is closely involved with GAIN's egg demand creation campaign through door-to-door activation campaigns. His knowledge of local consumers has played a substantial role in the success of the campaign.