Geneva, 8 January 2018 -
5000 adolescent girls – known as the "Golden Girls" – assembled on 19 December 2017 in the Sultana Kamal Mohila Complex, Dhaka, to celebrate the launch of the national "Adolescent Nutrition Campaign". The convention was the culmination of the "Bijoy Jatra" (Journey to Victory), a rally that started the prior day, in which the Golden Girls came together from eight divisions of Bangladesh and made their way to Dhaka.
The campaign highlights many existing problems within Bangladesh and the adolescent population. Even though it targets several issues, the main objective of the campaign is to improve access to food, health, education and social services for all adolescents at a nationwide level. The campaign, led by the Government of Bangladesh and co-led by the Shornokishoree Network Foundation (SKNF), the Global Alliance for Improved Nutrition (GAIN) and Channel i, brings together several other key stakeholders, including the Ministry of Health and Family Welfare (MOHFW), Ministry of Education (MoE) and Ministry of Women & Children Affairs (MOWCA), as well as UN representatives, NGOs, civil society organisations, research and academia together with the private sector.
Adolescents' malnutrition represents a serious issue in Bangladesh: it is estimated that among 29.5 million adolescents, 26 percent rural girls are underweight and anaemia is amongst 15 to 19 years old girls (49 percent). Child marriage is still widespread throughout the country with 59 percent of girls married before turning 18 and almost one third of the adolescents aged between 15 and 19 years old are already pregnant with their first child. Malnourished girls are more likely to give birth to undernourished children and thus perpetuating the malnutrition cycle.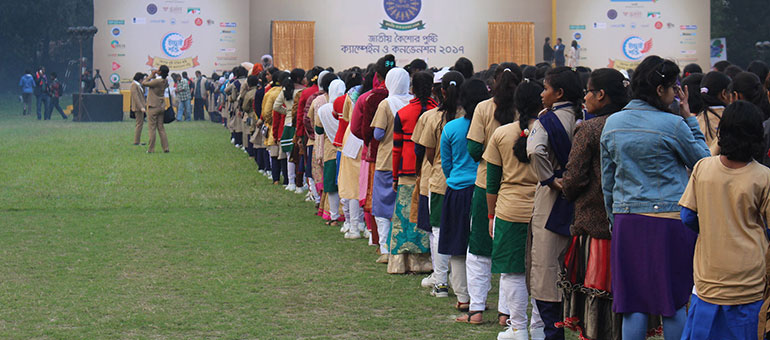 Bravely, these adolescent girls laid down these issues in front of politicians and international representatives with the objective of establishing a conversation on nutrition and putting an end to child marriage. For the Golden Girls – and many more adolescent girls in the country – this campaign represents a window of opportunity to push further the development of Bangladesh. "Will is Indeed Power- Let us ensure adolescent nutrition and build an adolescent friendly Bangladesh" is the theme of the campaign. This theme clearly reveals the willingness to empower young adolescent girls to speak up and overcome these issues, together.
Malnourished girls are more likely to give birth to undernourished children and thus perpetuating the malnutrition cycle.
The course of this campaign is worth keeping an eye on!