Geneva, Milan, The Hague, 1 July 2021 -
The Global Alliance for Improved Nutrition (GAIN), the Milan Urban Food Policy Pact (MUFPP), and RUAF are launching Food Action Cities. Food Action Cities is a knowledge platform where cities can share experiences, resources, and inspiration, and connect with each other's journeys towards sustainable, resilient food systems that advance equitable access to improved nutrition.
The online Food Action Cities platform contains over 70 case studies of actions that have been implemented in cities, addressing accessibility, affordability, utilisation, food safety, and desirability of healthy food, as well as initiatives to strengthen coordination around healthier diets. It also includes articles from experts in urban food systems and nutrition that give advice on developing and implementing actions.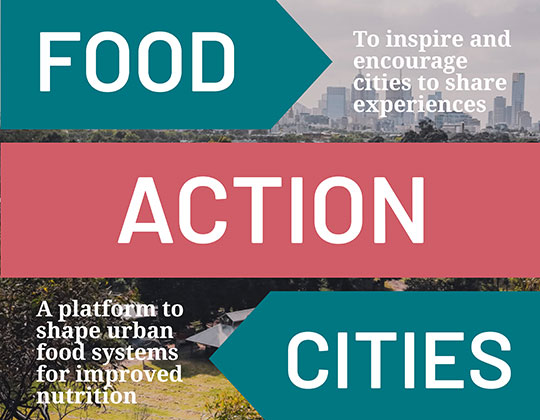 Lawrence Haddad, Executive Director of the Global Alliance for Improved Nutrition says: "Cities are increasingly willing to share and support each other to drive transformative change in the landscape of nutrition around the world, building on their own experiences in policy action, learning from each other and focusing on tested innovative, participatory and forward-thinking strategies. By doing so, they can get inspired and achieve greater results faster."
Rene van Veenhuizen, Coordinator of the RUAF Global Partnership, says: "At a time when cities are introducing innovative policy instruments and programmes to shape urban food systems, there is a real need for this dynamic platform, which allows cities themselves to contribute to the wealth of information. The case studies detail the actions that cities have put in place, how they have done so, what worked for them, and what did not work."
MUFPP Secretariat says: "Cities are happy to share their best practices and discuss how to move further to engage their citizens in a food dialogue. If you are visiting the platform it is because you are aware, as we are, that cities can and should be a valuable part of the solution to many global challenges. Exchanges on urban food systems allow us to tackle these issues and this platform will amplify our message to our cities and our people to exchange, learn and act."
The platform includes good practices in urban food systems governance, such as: 
Integration of food and nutrition in all relevant policies and programmes, across city government departments and agencies. 
Multi-stakeholder engagement and alliances between city government, the private sector, civil society, and others, for relevant, evidence-based interventions and greater implementation capacity.
Synergistic use of multiple policy instruments to address the same issue, to magnify the overall impact.  
Reception by city food policy leaders
Food Action Cities has been warmly welcomed by food policy officials in pioneering cities. 
Having such a platform to be able to pull [on] many policies [in one place], will help each city uniquely craft and create their own policies.
Alexandra Rodriguez, Manager, AGRUPAR Participatory UA Programme, Quito, Ecuador, considers the Food Action Cities platform to be a timely resource, given that urban food systems urgently need to respond to the challenges of climate change and recover from the impacts of COVID-19. She says: "Now more than ever we must be connected and we must share and we must learn from each other".
Background information
Food Action Cities was born out of a successful cooperation between GAIN, MUFPP, and RUAF that led to an initial compilation of over case studies in a printed/.pdf document published in 2019, 'A menu of actions to shape urban food environments for improved nutrition'. Cities face the huge challenge of ensuring that nutritious, safe, and sustainable food is available to all residents and that it is affordable and desirable. 
For any questions or to arrange an interview please contact: 
Sadia Kaenzig
Head of Communications
Global Alliance for Improved Nutrition (GAIN)
skaenzig@gainhealth.org 
***
About the organisations 
Global Alliance for Improved Nutrition (GAIN)
www.gainhealth.org
The Global Alliance for Improved Nutrition (GAIN) is a Swiss-based foundation launched at the UN in 2002 to tackle the human suffering caused by malnutrition. Working with both public and private, GAIN aims to deliver nutritious foods to those people most at risk of malnutrition.
GAIN's Urban Governance for Nutrition Programme brings diverse stakeholders together to develop policies and actions that help to equitably and sustainably shape urban food systems to deliver healthy diets.
Milan Urban Food Policy Pact (MUFPP)
www.milanurbanfoodpolicypact.org
 
Launched by the city of Milan in 2015 as the legacy of the Milan Expo, the Milan Urban Food Policy Pact is an international agreement among cities from all over the world, committed "to develop sustainable food systems that are inclusive, resilient, safe and diverse, that provide healthy and affordable food to all people in a human rights-based framework, that minimise waste and conserve biodiversity while adapting to and mitigating impacts of climate change".
Its main aim is to support cities wishing to develop more sustainable urban food systems by fostering city to city cooperation and best practices exchange. We welcome cities to join our Pact.
RUAF Global Partnership 
www.ruaf.org
The RUAF Global Partnership on Sustainable Urban Agriculture and Food Systems is a partnership of strategically selected expert institutions. The partnership brings together cities, research institutes, and civil society organisations with a recognised track record in urban and peri-urban agriculture and urban food systems. This enables us to combine technical and policy expertise, scientific research, and practical knowledge. RUAF is a powerful collaboration for action and advocacy to advance the transformation of food systems in cities around the world. RUAF strongly believes in the benefits of interdisciplinary work and multi-stakeholder learning.