Geneva, 24 October 2019 -
Most people, including low-income households in developing countries, buy their food from markets, both formal and informal. Therefore, it makes sense to treat them as consumers. At GAIN, our aim is to enable these consumers to improve their diets through increasing consumption of nutritious and safe foods, because a good diet is central to tackling all forms of malnutrition. 
Our approach recognises that these consumers need more than just education on what a good diet looks like. They need to feel motivated to want to eat a better diet and then be given practical, actionable ways to do so. We call this "demand creation". Since the Baduta programme started in Indonesia in 2015-2016, we have developed a portfolio of projects in Bangladesh, Kenya, Nigeria and Pakistan through our Making Markets Work programme. 
Despite this growing expertise, we know that there is considerable work happening both beyond GAIN and beyond the nutrition sector, and that in order to solve the challenges demand creation faces we will need to work together. To this end, we have developed a new platform for collaboration, the Nourish Our World Network (NOW).
NOW's mission is to increase the testing and at-scale use of demand creation strategies, to be a platform for best practice and to generate sustainable funding streams for demand creation. It was designed in partnership with Ananda Partners, The Busara Centre for Behavioral Economics, Quantum Consumer Solutions, Sight and Life and System 1 Agency.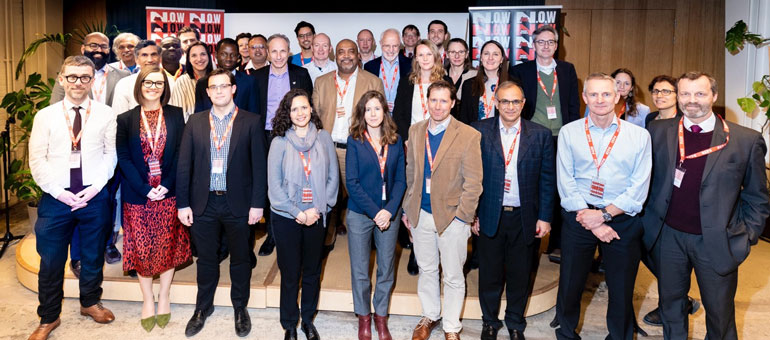 During an unseasonably warm week in February in Amsterdam, NOW hosted their first workshop towards the goal of sharing ideas and developing effective approaches to creating demand for nutritious and safe foods. Moderated by Prof V. Kasturi Rangan, Harvard Business School and Siddarth Kanoria, Quantum Consumer Solutions, it was attended by 30 experts from food-related businesses, the development sector and academia, with representation from both high and low-income countries. 
Discussions were structured around three components of successful demand creation programmes:
Motivating consumers to take action.
Creating business models for sustainable action.
Promoting policies and regulations to reinforce demand creation.
Best in class examples of each of these components, from both nutrition and other sectors, were presented as stimulus for starting to solve some example challenges faced by the nutrition sector. A full overview of these can be found in the workshop report. 
It's hard to distil two days of rich discussions into a few points, but here are some of the key themes emerging from the workshop:
There is lots of appetite and desire (pun intended!) from the private sector, public sector, policy makers and demand creation experts to work together on solutions that benefit us all. NOW is committed to being the platform where this necessary collaboration can occur.
Consumers are a powerful force. If we can find a way to help them recognise their own agency, they can use it to exercise the power of demand to improve their food system and support beneficial policies and regulatory measures.
We will have to learn from and partner with the private sector to identify the business opportunity presented by our challenge of improving diets and build sustainable impact business models. In working together, we need to be open to the idea of creating new business entities that solve our problem.
Demand creation and public policy can and need to be mutually reinforcing strategies to encourage the right behaviours from both industry and consumers. Food systems are complex and the different levers available to influence them are interconnected with constant feedback loops. So, it is tough for individual levers to exert enough influence in isolation. To address this, we will need to take a systems view and work together, with all our expertise across demand creation, business modelling and policy in a single geography or country.