London, 23 March 2020 -
With the spread of COVID-19 we find ourselves plunged into a global health crisis. By most accounts we are only at the early stages of the pandemic so it is going to reshape economy, society and politics, probably permanently.
Pre-COVID-19 crisis, many families the world over already spent a lot of time and energy thinking about getting access to food. During the crisis, the most vulnerable face the rapid loss of their income - spent mainly on food - and this is an immediate threat which should be prioritised. For many others, simple access to shops has also become very worrying and needs swift attention. Even the wealthy are increasingly thinking about food access at this time.
But are governments, businesses and civil society thinking enough about food access and the wider food system?
How will the crisis shape the food system if we do nothing? And what can we do in the context of the crisis to get the food system in better shape to improve the consumption of nutritious foods for all, especially the most vulnerable?
We desperately need to focus on the operation of food systems at the moment because we know that the quality and quantity of the food we eat is the number one risk factor in the prevention of general mortality and morbidity. If we forget the food system right now, the COVID-19 health crisis will unwittingly use the food system as a catapult to have an even bigger impact on the global burden of disease. If we think and act to change the food system right now we can reposition it to be more effective at delivering affordable nutritious food during the crisis, and perhaps even after the crisis.
What are the probable effects of COVID-19 (and the efforts to control it) on the food system which shapes our access to nutritious food?
It is difficult to say for sure, but in the table below we share some thoughts on the potential impacts throughout the food system of COVID-19 (and the response to it), and some ways of mitigating the impacts. We do this for high- and low-income contexts, which may well exist within the same countries. Many of our suggested actions are responses to immediate needs, but many would have positive impacts well after the crisis is under control.
What are the main threats? We are of course worried about food prices, especially for more nutritious foods, which are already more expensive than staples and unaffordable for many people, especially those on low incomes who already spend much of their money on food. More food staples will be consumed as a result of price hikes, but likely also more unhealthy highly processed foods which are cheaper, have longer shelf lives and may provide comfort in tough times. In addition, increased food price volatility (due in part to hoarding and cross border impediments) generates uncertainty and makes it more difficult for food system actors to take all manner of decisions.
We are also deeply worried about negative income shocks on the most vulnerable, through loss of livelihoods as the demand for certain services collapses and certain production systems are disrupted due to affected workers. Farming in particular seems very vulnerable given the older age profile of farmers and the mortality pattern of COVID-19 as well as the sector's common reliance on mobile workforces. This vulnerability, if realised, will mean less food produced and weaker nonfarm rural livelihoods and higher food prices for all, wherever we live. Physical distancing will have an impact on the costs of moving food around, within countries and across borders leading to more food loss and emptier markets. Lapses in food safety, which potentially started all this in a wet food market in Wuhan, will likely exacerbate if no action is taken. 
What are the probable effects of COVID-19 (and the efforts to control it) on the food system which shapes our access to nutritious food?
But there are opportunities. Healthier foods build immune systems throughout life but especially among vulnerable ages, including early life and the elderly, and so there is a window of opportunity to make the case for safe nutritious food. Diabetes and other non-communicable diseases are risk factors for COVID19 mortality and additional attention should be given to preventing the former because of the latter. 
We expect to see food safety move strongly up the policy priority list because of the origins of COVID-19. Social protection programmes should be more linked to promoting the consumption and production of nutritious food, not just preventing food insecurity. We expect the prevention of food loss, especially fresh food, during storage and transport to gain a greater profile. The aging of farming capacity will be treated more seriously, with efforts increasing to make farming more profitable and appealing to younger generations.
We can see opportunities for reshaping public sector messaging, not only about hygiene but about nutritious food consumption and preparation. Will there be new opportunities to disrupt food transport by using shared economy models capitalising on any underutilised haulage capacity to lower costs? Will we see more financing facilities for investing in nutritious food production, processing, storage, distribution and retailing? Will civil society become more organised and active about the provenance of food and about the behaviour of businesses and governments in ensuring the provision of affordable food?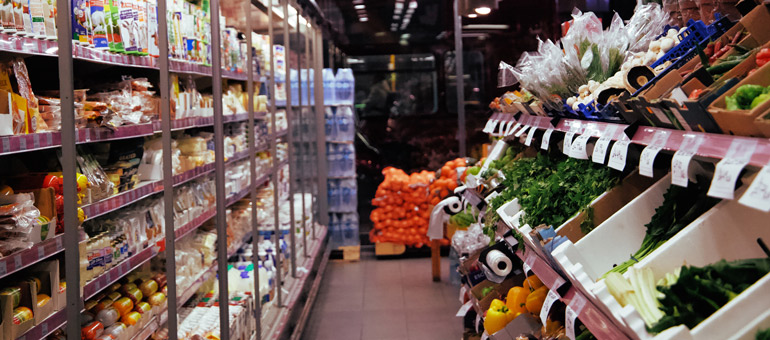 Finally, will we see greater collaboration between government and the private sector during the crisis spill over into a reshaped narrative post crisis about how the two sectors - public and private - can work better together to improve access for all to safe nutritious foods?
This is the first of a series of blogs that we will put out in the coming months. We have asked Nutrition Connect to set up a COVID-19 and food systems site and we would like to encourage our partners, colleagues, friends and fellow travellers to post blogs, opinion pieces and research reports and papers that are relevant to this topic on the site, with full organisational recognition and lots of cross posting. 
The COVID-19 health crisis is here. Let's work together to stop it turning into a food crisis and further exacerbating disease burdens.
Governments, communities and businesses around the world are showing astonishing energy and innovation to cope with COVID-19. The short term priority is to stabilise food systems and keep trade open – all people working in food systems from the farmer to the check out supermarket agent are critical to keep the food system moving. But it is in times of great crisis that fundamental reforms are born. The United Nations, the World Bank, the International Monetary Fund and the advance of the welfare state were developed in the darkest days of the Second World War.
So let's stand by our neighbours, critical workers and communities today. Let's also work to reshape our food systems for tomorrow - to deal with the new COVID-19 crisis as well as the much bigger diet-related health crisis; one that has been with us for decades.