GAIN's Marketplace for Nutritious Foods programme focuses on supporting small and medium-sized enterprises (SMEs) in developing profitable business models and sustainably bringing nutritious and safe foods to market.
Samuel Guizado is a farmer in Mozambique. He received training and support from GAIN in business management, food processing, quality, integrity and security, and marketing. Mr Guizado has long known the importance of a healthy and nutritious diet. As the son of farmers in Mozambique, he grew up producing a variety of crops and understanding how they impact human health. "I have always known that food is important to us and that we need to eat healthy every day", he said.
It was in these years that Mr Guizado also learned that farming could be more than just a way to feed himself and his family; it can be a lucrative and impactful business that helps his community. He credits these lessons as part of the inspiration behind Agromaco, the company he created to provide affordable milk and yogurt products to low-income communities.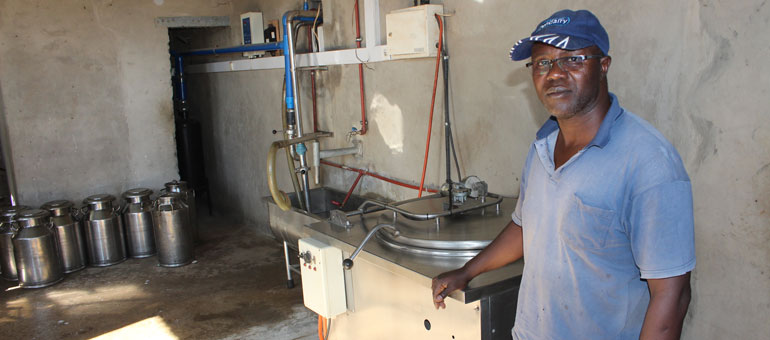 After leaving his family's farm, Mr Guizado went on to be trained as an architect. However, he later decided to transition into the agribusiness sector and established his business in the central province of Manica, Mozambique. Taking a cue from the type of farming he had learned while growing up, Mr Guizado made sure that his company grew multiple nutritious crops such as beans, maize, and sorghum. He also began raising beef cattle. After learning of efforts to reactivate the dairy industry in Manica Province, he turned his sights towards milk production.
In 2010, Agromaco started investing in dairy production. The company opened its own dairy farm and assisted small-scale producers with animal care and trained them in techniques to produce and preserve milk. Agromaco purchases milk from these small-scale producers, which is then stored, processed and sold to the surrounding communities. "We are now producing and selling pasteurised natural milk for 50 Meticais per litre (USD 0.65) and natural yogurt for 60 Meticais per litre (USD 0.78)," he said. "Currently, most of the product is sold to Valdomar, a large-scale producer and partner of Agromaco. We pack the product and they distribute it to the markets."
Our goal is to supply the whole central and southern regions of the country with our milk, therefore contributing to improving people's diets in these regions.
Once the factory is complete, Agromaco expects to increase its production to approximately 70,000 litres of milk per month and an average 887.320 litres per year, thus contributing to the increased consumption of milk and other dairy products at affordable costs for low-income population groups. Samuel Guizado believes that Agromaco's products are highly appreciated by local communities for their freshness and for their nutritional and health benefits.
Looking to the future, Samuel hopes for Agromaco to continue to grow. "Our goal is to supply the whole central and southern regions of the country with our milk, therefore contributing to improving people's diets in these regions. We also have a long-term goal to export our product to Zimbabwe. We intend to be the major supplier of quality-processed natural milk and yogurt in the region." In addition, the company is preparing to release two new brands, MacoYogi and MacMilk. "We will be offering strawberry and chocolate flavoured products," he said proudly.
According to Mr Guizado, "GAIN's contribution was essential to accomplish our goals. GAIN assisted with a grant with which we are totally equipping our processing unit. We will have a complete processing and packaging line. That will bring more quality to our products. We will produce more, and our products will cost less, and that is good for everyone."