London, 22 April 2021 -
Our food systems profoundly impact our ability to achieve universal goals of human and planetary wellbeing, with food directly or indirectly linked to several of the United Nations (UN) Sustainable Development Goals. With the UN Food Systems Summit scheduled to convene a wide group of stakeholders from all walks of life in September 2021, food systems are rising up the agenda.
But what exactly are food systems? What do they comprise and how can we describe them in a simple way?
With this new pamphlet and poster, GAIN breaks down food systems in a highly visual way, illustrating their nine major parts: 
Food systems drivers
Supply chains
Food environments
Individual factors
Consumer behaviours
Diets
Political, programme, & institutional actions
Nutritional & health outcomes
Impacts: social, economic, environmental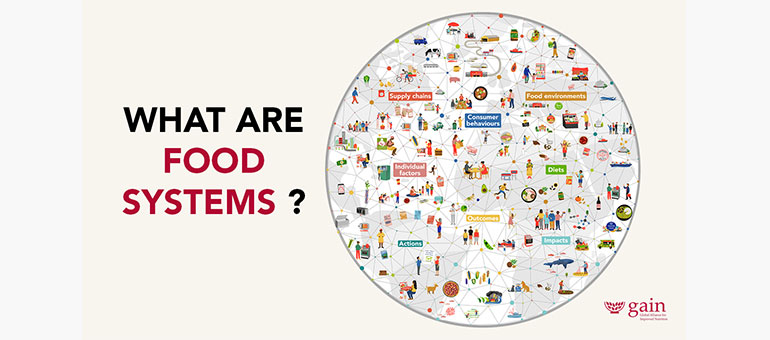 Have a closer look at the poster as well. This provides a graphic overview of the food system as a whole. 
In collaboration with a group of young leaders in the food systems space, we will also be launching a version of this pamphlet targeting a younger audience. Watch this space!