Abuja, 28 March 2023 -
Sometimes in our workplaces, we disagree with colleagues or a co-worker, and we feel hurt or angry about the situation. Rather than reacting irresponsibly, taking the time to pause, review and reflect on the situation can help us gain more clarity and perspective. 
During this pause, we might consider questions such as:
What triggered my response, and why am I feeling this way?
Was there a miscommunication or misunderstanding that led to the conflict?
Is there an underlying issue that needs to be addressed as a team?
What would be the most productive way to resolve this conflict as a team?
Taking the time to review and reflect on these types of questions can help us communicate more effectively with people and find a resolution that works for both or all parties. Additionally, by taking a step back and reflecting on the situation, we can avoid actions that may damage the relationship further.
A project implementation perspective
Let us pivot and take a project implementation perspective. How can we make best use of the pause, review and reflect approach as an effective project implementation tool?

From this perspective, it involves taking time to reflect critically on current activities and processes and planning for the best course of action, which are crucial parts of learning and adaptive management. This approach encompasses a range of activities that provide structure and intentionality, to taking stock of organisational processes, successes, and challenges and is very integral to driving programme outcomes.
Additionally, it can generate learning, knowledge, and data that can contribute to evidence-based decision-making and adaptive management  

So, what are the benefits of this approach? At first view, the model looks complex and can be confusing to those not familiar with it.  
As we interrogated its applicability to our work and processes, several questions kept coming up and needed answering:  
How do we structure the enquiry and sessions in a way that is both a challenging and supportive experience for the project leads?
How can we best use the outputs to drive effective, evidence-based decision-making?
You might currently be asking the same questions and not finding the answers right now. But one thing is certain, for this approach to succeed, there must be buy-in from the relevant leadership who must be convinced of the need to invest resource in a pause, review, and reflection workshop and how this activity will guide organisational decisions and learning, as well as provide deep insights into country programme performance and areas requiring improvement.
So, we set out to launch the first session with the following objectives:
Assessing the performance of our projects in 2022 vis-a-vis their set targets.
Harnessing initiatives necessary to strengthen the country's programmatic approach and improve project outcomes.
Enhancing synergy among projects and collective efforts toward achieving the Country's Business Plan.
Ascertaining the progress made with the influencing agenda in 2022 and the plans for 2023.
Promoting strategic learning and the integration of these learnings into current and future planning, development, and implementation of activities and projects at the country level.
During the workshop, a participatory approach was used to ensure the active involvement of the participants. The sessions featured presentations and brainstorming to harness ideas among the participants and analyse key performance metrics of projects and to ascertain the level of achievement of their set objectives.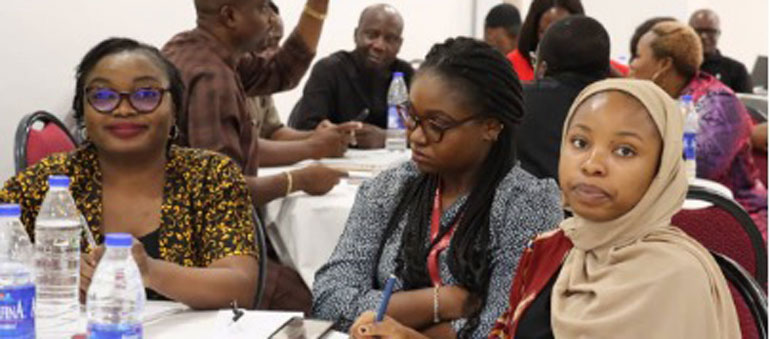 The Country Management Team's presence throughout the activity was critical for its success. They emphasised the opportunity for the team to reflect on progress, take ownership of results, identify gaps, seek solutions, and engage in a challenging and supportive manner to deepen the impact of interventions in Nigeria. This approach boosted relevance and morale within the team. The programme also involved global colleagues. Inviting them to take part in the review and reflection sessions provided them insights into discussions, and learning directly about the challenges faced, and the progress made by the Country Programme over the year.
Afterward, a detailed report was developed summarising key presentations, discussions, and proposed solutions discussed during the meeting. Action plans from the review meeting were then clearly outlined with responsible persons and timelines were agreed.
The PMI team followed these up with the respective teams on status to ensure accountability. A learning brief was developed which served as a learning document for cross-project learning and has helped the team focus on key deliverables promised to donors. Insights gained from the session have helped the team identify areas for improvement, set smarter goals, and increase their confidence to achieve more in the future. 
There are some key lessons learned from this approach that will be beneficial to other country programmes and projects as follows:
Embracing change: When faced with important decisions, we often choose to stick with what we know, even if it means missing out on potentially amazing opportunities. This is called the status quo bias, and it happens when we feel more comfortable with what we already have, rather than taking risks and embracing change. While this bias can protect us from the risks of change, it can also prevent us from experiencing the many benefits that come with trying something new. Psychology tells us that this tendency to stick with what we know is a type of cognitive bias that is hard to overcome, but it's not impossible. This process requires us to move outside of our comfort zone and try new ideas. 
Common misconceptions: One of the most prevalent misconceptions is the belief that pause, review, and reflection must be a one-way approach. In other words, some individuals assume that they must do all the reflecting and self-analysis on their own, without seeking input or reaction from others. However, this approach does not ignore the fact that other people can often provide valuable insights and perspectives that we might not be able to see on our own. 
Buy-in from management: To get buy-in from management, ensure that the discussion on the issue at hand includes people with varied perspectives while keeping the group small enough for everyone to contribute. Consider who needs to be involved to act on conclusions reached.
Be open to feedback: One important step is to get feedback from staff on the pause, review and reflect sessions. After each session, take the time to consider what worked well and what could be improved. Consider developing a feedback form or survey to send out to staff to better understand the impact of the sessions. Using the feedback received, organizations can modify the frequency, duration, and participation to better suit the needs of their staff.
Create a safe space: Remember the sessions may not go as planned if staff feel forced to share their reflections or if the sessions feel disconnected from their work. To avoid this, leaders should approach pause, review, and reflect sessions with a focus on creating a supportive and engaging environment for staff to share their thoughts and experiences. There is no wrong answer during deliberations Rather, it is about being open to different viewpoints and considering how they might be relevant to our own experiences from implementing or supporting projects. 
In conclusion, taking the time to pause, review and reflect can provide us with a valuable opportunity to learn, grow, and improve. Whether it is taking a few moments to reflect on a project we have completed, setting aside time each day to meditate and clear our minds, or participating in regular sessions with colleagues, the act of slowing down and taking stock of our thoughts and actions can help us to become more self-aware, more productive, and more effective in our personal and professional live.