Geneva, 1 August 2019 -
This week is World Breastfeeding Week, honouring one of the most effective and cost-effective nutrition interventions around: human breastmilk contains all the nutrients needed for young infants, conveying health benefits for both babies and mothers. Optimal breastfeeding (exclusive breastfeeding to age 6 months and continued breastfeeding to age 2 years or beyond), if scaled up to be nearly universal, could save the lives of 823,000 children a year across low- and middle-income countries. Unfortunately, actual rates are quite low: in most countries, fewer than half of babies are exclusively breastfed to age 6 months. A recent analysis of 49 African countries found that only three were on track to meet the global target for exclusive breastfeeding, 50%. 
There are many causes of low breastfeeding rates, including cultural beliefs, knowledge gaps, social pressures, and women's busy schedules. One potential cause, however, is the marketing of breastmilk substitutes (BMS), or baby formulas. By presenting these commercially produced products as equal to or better than breastmilk, companies might confuse new parents about the importance of breastfeeding or lead them to believe it is inferior to using BMS. In addition to displacing nutritious breastmilk at a higher cost, use of BMS can lead to poor nutrition if they are prepared with unclean water or served in unclean bottles (a hard-to-avoid reality in many low-resource settings) or not mixed in the proper proportions (which can be challenging in low-literacy, high-poverty settings). After controversies involving BMS marketing in the 1970s, the World Health Assembly adopted in 1981 an International Code on the Marketing of BMS, which regulates the marketing of BMS and other infant foods and drinks, placing restrictions on how they can be advertised and promoted.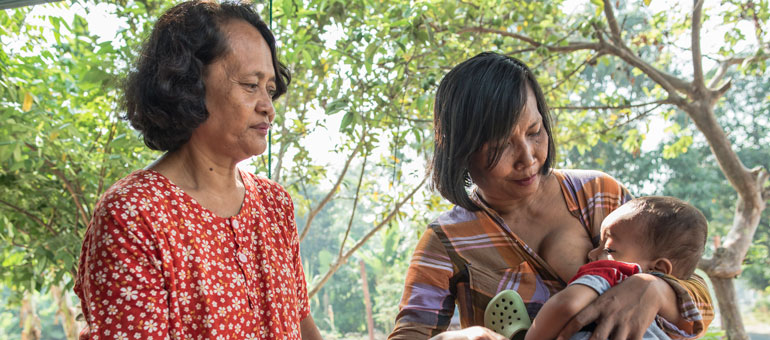 However, the Code has been unevenly implemented and not always monitored. Researchers recently came out with new evidence showing that BMS remain widely marketed. In Phnom Penh and Kathmandu, over half of babies were found to have been fed BMS soon after birth, before leaving the health facility – partly due to health professionals' recommendations to mothers, in violation of the Code. Across 43 sampled stores in Bandung City, Indonesia, 147 BMS were found, two-thirds of which were being promoted. In urban Cambodia, improper marketing was commonly found at points of sale, on product labels, and in health facilities. While TV commercials in Cambodia and Senegal did not specifically promote BMS for children under 6 months, they did promote them for older children – usually not specifying the recommended age of use. 
These results, as well as the Access to Nutrition Index and a 2018 Save the Children report, show that there is still progress to be made on breastfeeding promotion by private-sector companies. GAIN sees breastfeeding as essential to improving nutrition, especially for the most vulnerable babies, and promotes breastfeeding and optimal young child nutrition through its programmes. Supporting the appropriate marketing of breastmilk substitutes is also central to our role as an honest broker for improved nutrition: GAIN has a policy of not having active partnerships with or accepting funding from companies that have violated the code during the past five years. It is important to continue to research and monitor such marketing practices – using the resulting information to acknowledge companies that are doing their part to help improve nutrition and to hold accountable those which are not.