Geneva, 11 July 2018 -
At GAIN, over the last six months we've been building a new Nutritious Foods Financing programme starting in East Africa. I've had the privilege of supporting this effort while being temporarily based in Dar es Salaam since February. The potential of the programme is becoming increasingly exciting as data becomes available showing the scope and viability of SMEs to deliver more nutritious foods, if appropriate private investments are unlocked. To this end, this week we announced the first-ever Nutrition Africa Investor Forum, scheduled for 16-17 October in Nairobi, Kenya. At the event we'll be bringing together investors and investees, sharing a pipeline of investable opportunities as well as a summary of existing and new financing modalities for SMEs.
The opportunity
GAIN already provides some form of technical support to over 500 companies working along food value chains in Africa. National companies deliver a significant percentage of the foods consumed in Africa. Many of the food companies with which GAIN already engages to improve nutrition can be categorized as "Zebras" – family-founded and operated, medium growth companies which are unlikely to exit to third parties or receive large equity investments.
The 'zebra' companies we're working with are located across the food value chain from inputs to ag production, to post-harvest handling, storage and transportation, processing through to distribution and retail. A summary of the types of companies is below, with the majority falling in the two categories of post-harvest handling/storage/transportation; and processing and manufacturing.
Inputs and production technologies
Producers, distributors, and retailers of inputs that improve nutritional quality and diversity of crops, e.g. biofortified seeds
Mobile phone service providers who deliver information on market prices, weather and agricultural practices
Producers of safe, diverse and nutritious foods for local markets
Post-harvest handling, storage and transportation
Providers of preservation technologies
Sellers and leasers of on-farm storage and / or cold chain systems
Sellers of cold storage and distribution solutions that preserve food nutrients and reduce waste during transit
Developers of low-cost packaging innovations
Processing and manufacturing
Flour mills and oil refineries
Procurement agents for micronutrients used in food fortification
Producers of complementary and/or therapeutic foods
Food companies developing new, more nutritious foods or nutritional enhancement of existing food products
Distribution and retail
Technology-enabled aggregation and distribution of fresh produce
Proximity-based retailers serving low income segments in affordable serving sizes and formats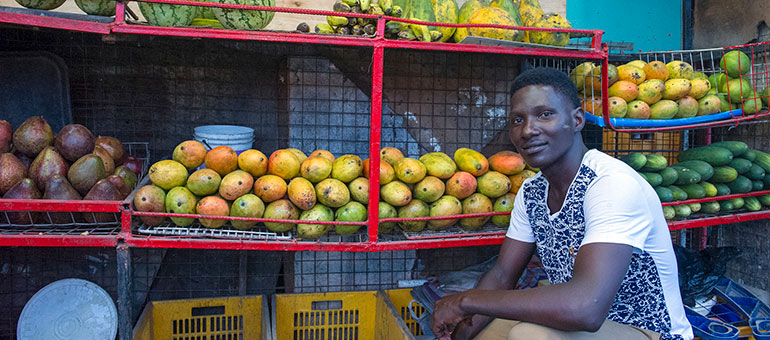 In May 2018, we commissioned iGravity Impact Investment to undertake an assessment of the financial needs of enterprises working in these food value chains in both Kenya and Tanzania. 500 agri-food companies were initially identified for this. 52 of or roughly 10% were shortlisted for interviews based on the selected criteria for nutrition-sensitive investments. Together these 52 represent an aggregate investment demand of USD 44 million, with a simple average of USD 850k per company and a range between a minimum of USD 4k and USD 5 million. However, many zebras as well as other national agri-food SMEs are still hiding. The preliminary estimates of total financing need for investments to improve the delivery of nutritious foods from national companies in both countries could be around USD 5.7 billion with a potential investable pipeline of USD 134 million.
The gap
Of course, the major constraints on access to finance (equity or debt) faced by these SMEs are very real and not dissimilar to those faced by SMEs in other sectors. To better understand the needs of this critical group, GAIN, the Scaling up Nutrition Business Network (SBN) and Dalberg completed a survey in late 2017 on constraints to growth and delivery of nutritious foods. Access to finance came up as the top barrier to growth for these SMEs. Common reasons behind this include:
Risk aversion: local banks often do not have the risk appetite to lend into sectors on which they have little knowledge. At the same time, many domestic banks can generate secure profits through less risky lending to governments and established companies, and do not have the incentive to seek out new SME clients
High transaction costs for banks: lending to SMEs is labor intensive, particularly when sector knowledge of agriculture and nutrition is limited, which may make it challenging for banks to make enough in fees on small transactions to compensate for time spent. Similarly, there is a need for costly professional services such as the expense of attorneys and consultants which can be unaffordable for small- and medium-sized projects; and
High interest rates imposed by local banks.
What we're doing to bridge the gap
GAIN – following nine years of success in blended finance for fortified foods and managing a trade financing facility for vitamins and minerals which has provided nearly USD 80 million in extended credit while maintaining a one percent default rate – is building a Nutritious Foods Financing programme.
We're still in the early days but we aim to mobilize funds to provide more targeted technical assistance to SMEs, and to strengthen existing — as well as establish new — financing modalities which provide access to private and public sector investment for SMEs which can produce more safe, nutritious foods.
The programme will help facilitate multi-stakeholder engagement processes, evaluate capital markets and help make available financing instruments capable of attracting investment capital. The program will contribute to reducing malnutrition through:
alleviating constraints and creating incentives for large and small companies to focus on more nutritious food products;
building on and maintaining the medium- and long-term sustainability and predictability of finance availability to agri-food SMEs;
helping mitigate risk by providing ongoing technical assistance to SMEs; and
creating an opportunity for investors seeking new themes for investment which improve development outcomes.
To further develop this initiative we're co-hosting with Royal DSM, African Business Magazine and the SUN Business Network, the first-ever Nutrition Africa Investor Forum (Nairobi, 16 & 17 October). This event will raise the profile of nutrition investment opportunities by showcasing businesses that can improve access to nutritious foods. The event will offer a comprehensive overview of investment prospects in nutrition, identify what are the major investment gaps and summarize existing as well as potential financing models.
Through these efforts, GAIN and partners aim to catalyse more, long overdue investment in food and nutrition for Africa. Encouraging private sector investment into 'zebra' SMEs and into food value chains more generally can help tackle a stubborn and damaging public health challenge that disproportionately affects the poor on the continent.