Nigeria, 13 August 2016 -
GAIN's new Postharvest Loss Alliance for Nutrition (PLAN) addressed the Third All Africa Horticultural Congress (AAHC) at the International Institute of Tropical Agriculture from 7-12 August in Ibadan, Nigeria.
The AAHC brings together actors from a variety of sectors working to improve African horticulture systems to "build synergies and unleash the underexploited potential of horticulture in Africa." This year's theme, Horticulture for Improved Livelihoods, invites participants ranging from students, leaders in agribusiness, development organizations and more to network and learn about the innovative solutions, business models and projects tying horticulture to improved quality of life.
GAIN hosted a PLAN Symposium with the project's core alliance partners in Nigeria. In addition, PLAN Project Manager, Dr. Augustine Okuruwa was invited to present the project at the plenary session.  The Symposium featured two expert panel discussions to share information about the PLAN and promote communication and collaboration between actors along the horticulture supply chain.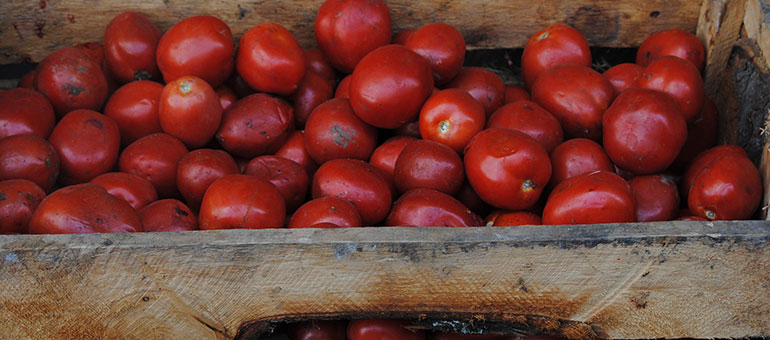 PLAN was developed as a tool to address the loss and waste of nutrient dense perishable foods and will begin by targeting horticulture crops, which are typically some of the most nutritionally dense foods in the human diet. In developing countries like Nigeria, nearly 50% of all fruits and vegetables are lost or wasted before reaching the consumer, due to poor handling and packing or lack of technologies to keep the produce from bruising or rotting prematurely. The International Food Policy Research Institute (IFPRI) has noted that if this loss and waste of horticulture crops was stemmed by even 10%, the population at risk of hunger worldwide could be reduced by 11% while child malnutrition could see a decrease of 4%.
As a leader in identifying and delivering solutions to address malnutrition, GAIN developed PLAN to bring together the multitude of public and private sector actors addressing postharvest loss and waste to collectively reduce its impact on the availability and affordability of fresh fruits and vegetables. PLAN aims to address the major gaps in the horticulture supply chain leading to these major losses. One way PLAN will do this is through activities such as the Alliance's Business to Business Engine, which links industry leaders with local business working in cold chain development, packaging and crating, and proximate processing for an exchange of knowledge, best practices, and technical and financial assistance. Nigeria was selected as the first PLAN country due to its high potential for impact and enabling environment for successful implementation of solutions that address both postharvest loss and micronutrient malnutrition.
GAIN's panel discussions featured panelists representing local businesses, government agencies, financial institutions and industry groups such as the Nigeria Agribusiness Group, Standards Organization of Nigeria, the Nigeria Incentive Based Risk Sharing System of Agricultural Lending, the Federal Ministry of Agriculture and Rural Development and Easy Sauces Nigeria, Ltd. During these panels and throughout the conference, GAIN took the opportunity to engage members of the Nigeria and international horticulture community while promoting the PLAN activities such as the PLAN Nigeria Alliance and the Business – to Business Engine.