Geneva, 13 August 2021 -
"We are truly the first generation with a real chance of ending hunger and malnutrition". GAIN Executive Director and Chair for the UN Food Systems Summit Action Track 1 Lawrence Haddad noted as he opened  the Achieving Zero Hunger session at the United Nations Food Systems Summit. With the recent release of the CERES 2030 report that streamlined what is required to combat hunger and the total cost annually therein, we now know what to do. Science has provided the roadmap to meeting this Sustainable Goal 2 of Ending Hunger and Malnutrition by the projected 2030. 
Recent reports and data by the Food and Agriculture Organization (FAO) and other development agencies shows that the world is actually on a negative spiral from the set hunger and nutrition 2030 goals. We are in danger of losing the gains made in a large part before the Corona Virus pandemic. However, it is important to note that before the pandemic, we were already seeing signs of a losing war against hunger and malnutrition.
Hunger caused by human-induced actions like wars and conflicts together with climate change were, and still are, threatening our food systems. Today, the pandemic has worsened the situation by expanding the economic inequality gap further compounding suffering of majority living in low-income countries.  Her Excellency Josefa Sacko, Commissioner for Rural Economy and Agriculture at The African Union Commission noted that less than 2% of the African population has been vaccinated against Covid-19. This figure is staggering and will only increase the gap stakeholders are constantly trying to bridge. Actions need to be taken and it should happen fast.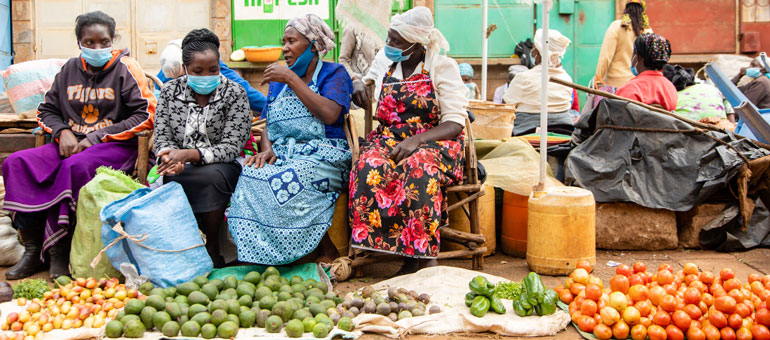 The Zero Hunger Coalition offers us an opportunity to embrace the challenge of fighting hunger and malnutrition by looking at thriving rather than surviving. Samantha Power, Administrator of the USAID emphasised the United States of America approach of focusing on agricultural innovation will ensure long term practises rather than short term humanitarian practises which are rarely sustainable. 
"Equipping farmers and fisherfolk with the right technology and knowledge to produce safe and nutritious food is the first step towards reducing hunger in society. Making available technology and good agricultural practises to family farmers who make up majority of the food producers in developing worlds will allow them to scale up their output allowing them self-sustainability". 
Her sentiments were echoed by Andrew Youn, Director of The One Acre Fund who emphasized key aspects that can promote self-sustainability amongst small holder farmers;
Making loans and other financial vehicles available to them
Delivering high quality farm inputs and equipment similar to what supports large scale farmers
Offer training services in basic-modern planting techniques
Incentivising them to adopt nature effective/friendly farming methods and technology.
The space of women in small holder agriculture agricultural change is a critical component in securing an economically sustainable food network. H.E. Karina Gould, Minister of Development, Canada underlined the need to actively promote and sustain women's access to agricultural financial support. "The transformation in the food system we highly seek will be achieved if women are at the centre of the conversation. You cannot transform the food system without changing the gender dynamics. Women and children are the most affected by hunger and malnutrition yet women play a vital role in agriculture regeneration efforts. We are committed to working with local communities and local organizations and women must be at the forefront of our interventions."
Young women leaders are taking the mantle of pushing for a systemic change in the food system. Maureen Muketha, a youth representative from Kenya and the founder of Tule Vyema called for a change in narrative. "Food is a basic human right, not a privilege. 118 million people go hungry every day. It is time we bridge this gap. We must join hands and form a world where everyone can access and afford safe and nutritious food any time."
Mary Robinson, Former President of Ireland called for a two-pronged fight against hunger and malnutrition in the context of climate change; justice and sustainability. "We need to bear in mind the layers of injustice of the climate crisis and the fact that it impacts far earlier and severely the poorest countries that are least responsible for the carnage.
Food is a basic human right, not a privilege. 118 million people go hungry every day. It is time we bridge this gap.
Stanley Kimaren ole Riamit Founder-Director of Indigenous Livelihoods Enhancement Partners (ILEPA) called on governments, development organizations and all players to factor in the voices of indigenous people in the food chain. Inclusivity of different actors will enable swift outcomes in achieving zero hunger and nutrition. "Hunger takes away human dignity", he noted. He further implored large scale agricultural supporters to take into account voices of indigenous people noting that indigenous knowledge systems are often looked down on, devalued or completely ignored.
Closing the Zero Hunger session, Dr Haddad called to action all food system actors by introducing the powerful Four Firsts. "This is the first-time hunger numbers have jumped the most in a year. This is the first time we have packages of solutions to end hunger. This is the first time food system transformation starts with ending hunger. We are the first generation with the power to end hunger."