London, 2 November 2022 -
Far too often, nutritious foods (many of which are perishable, and therefore susceptible to being lost or wasted through the supply chain) never make it to consumers. With levels of hunger and malnutrition as high as they currently are, this is a travesty.
 
Moreover, all the environmental impacts associated with the production of that food were made in vain. The production-related emissions, water use, land use, and impact on biodiversity all could have been avoided. More food will need to be produced to replace the lost food, with further impacts on the environment and natural resources. As a final blow, the lost and wasted food then produces methane - a powerful greenhouse gas - as it rots.
 
As GAIN seeks to transform food systems in ways that maximise human health while minimising environmental harm (and maximising environmental co-benefits), addressing food loss and waste is a key focus. We do this in a variety of ways, including:
 
Supporting food producers and businesses in nutritious foods value chains: through our business support programmes such as the SUN Business Network and Nutrition Impact at Scale, as well as the new Nutritious Foods Financing Facility, we help SMEs to optimise their handling, processing, storage and packaging practices to minimise food loss.
Strengthening value chains: food can be lost throughout the supply chain due to lacking infrastructure (especially cold chains and storage), inefficient distribution, transport and logistics constraints, and even poor packaging. GAIN has worked to develop distribution hubs that enhance efficiency in the value chain, as well as increasing access to packaging materials that reduce the risk of food loss. In some projects, we also support the development of new processing facilities, such as safe solar drying facilities and cold storage rooms, as we are currently planning at fish processing hubs in Mozambique.
Transforming food markets: the physical infrastructure of food markets, where the majority of food is bought and sold in LMICs, has a significant bearing on food safety and the risk of food loss and waste. Equally, the handling and storage practices of market vendors may increase or reduce that risk. That's why GAIN works to improve the physical infrastructure and delivers training to vendors and informal retailers.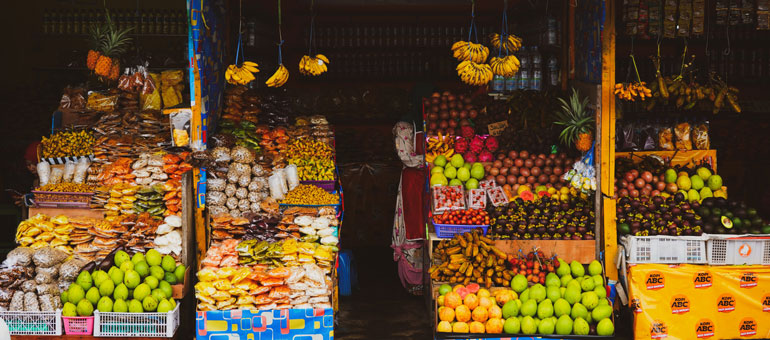 ---
For further information, examples and case studies, please explore: