London, 18 October 2018 -
Today we are celebrating #WorldEggDay even more seriously, with the publication of the Global Alliance for Improved Nutrition (GAIN)/RTI co-edited special supplement of the journal Maternal and Child Nutrition on "Eggs: a high potential food for improving maternal and child nutrition". This supplement explores, in nine novel papers, the science base supporting increased consumption of eggs in resource-poor countries.
Following the recent publication of a trial demonstrating that daily consumption of eggs reducing stunting in young children in Ecuador by 47%, the papers examine: the nutritional value of eggs; why children and pregnant women do not consume them frequently in resource-poor countries; whether evidence suggests that it is possible to implement interventions which increase consumption; issues in family poultry raising and business models for commercial ventures, and, finally, a comparison of different pathways to increase consumption in these settings. The authors find that consumption of eggs is very low, especially in sub-Saharan Africa and South Asia, driven largely by unaffordability but also, in some cases, by cultural preferences or vegetarianism. Although well controlled interventions clearly can increase egg consumption, many NGO experiences have been disappointing. The most promising business model for resource-constrained countries appears to be the "egg hub", bringing together multiple production units of 5000 layers. But to feed the world's cities, very large-scale commercial farming is needed.
GAIN is convinced that the nutrition community needs to do much more to promote the consumption of eggs, particularly in by children and pregnant women. There are very few, if any, other interventions which have demonstrably reduced stunting by such a large margin, and in adults, it is no longer believed that consumption of eggs (up to one a day) is associated with coronary heart disease or stroke. In Mozambique, GAIN will be working directly with egg producers to support increased production, as well as conducting a demand generation campaign promoting egg consumption. All of our work on Better Diets for Children will be considering the potential contribution of eggs, and in Nigeria, we will be focusing exclusively on promoting egg consumption as the government investments its own resources in egg production under the new NEGRPO scheme. This work complements GAIN's previous extensive work on multiple micronutrient powders and fortified complementary foods.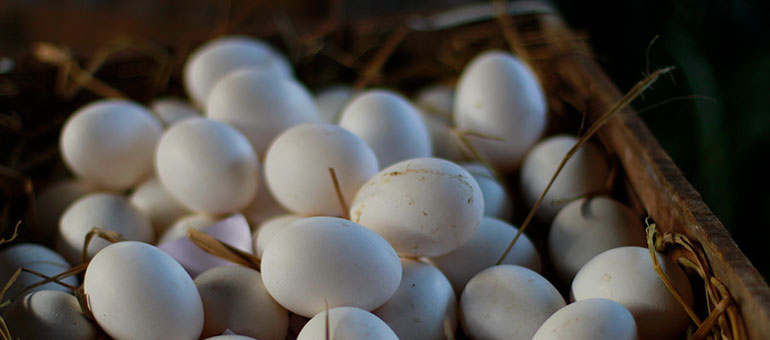 We are aware that ramping up egg production in resource-poor countries is not without its challenges. For this reason, we are supporting and co-moderating a discussion on the Food and Agriculture Organization of the United Nations' Global Forum on Food Security and Nutrition which will launch on 23 October. This discussion will ask:
In order to increase access to eggs for the world's poorer populations, what should be the right balance between small-scale production, large-scale commercial production, and long-distance trade?
If countries do increasingly move towards large-scale production, how do we balance the interests of better nutrition with concerns about smallholder livelihoods?
What are the different ways that we could increase demand for eggs, other than increasing availability and reducing price? What are some examples of successful initiatives?
How can we mitigate the potential downsides of large-scale egg production on animal welfare and carbon emissions?
What do we need different stakeholders (governments; private sector; academia; normative agencies) to do to accelerate access to eggs in poor communities?
Please join us in this discussion by signing up to the Forum. We look forward to hearing your views!