London, 22 July 2020 -
As the wide-ranging effects of COVID-19 combine with serious pre-existing environmental, social, political and economic strains, our food systems find themselves under unprecedented pressure.
The silver lining is that this uniquely challenging context has prompted renewed focus on finding scalable solutions to protect lives, livelihoods and our planet. Governments, businesses and civil society have been forced to strengthen commitments to supporting the most vulnerable – not least through significant safety net programmes and nutrition-focused interventions.
And there is cause for hope, as we explore the opportunities offered by new innovations. Undoubtedly, digital technology will be crucial in addressing some of the biggest issues we face.
The 45th UNSCN report, Nutrition in a Digital World, therefore comes at the perfect time. It acknowledges the gravity of ongoing challenges without dwelling on all-too-familiar problems, instead devoting most of its 148-pages to clear and actionable solutions. It is densely packed with insights into how technology can improve nutrition outcomes, including extensive examples from around the world.
One of the clearest messages is that digital technology can positively affect every part of the food value chain, from production (farmer support apps, precision agriculture, sensors, big data, drones…) and supply chain innovations (marketplaces linking producers to buyers, first- and last-mile logistics solutions), through to retail (eCommerce, food delivery) and consumer engagement (digital communications).
Much of this is underpinned by three supporting pillars:
data, collected and analysed at a greater scale than ever to inform strategies;
communications tools, offering connectivity throughout the supply chain, even in the most challenging environments; 
innovations in digital finance, providing access to credit, enabling mobile payments, and protecting remittances.
One article cannot do justice to the breadth of case studies, but one example that brings many of these elements together is the HarvestPlus and IFPRI piece: "Digital solutions to promote nutritious foods: Value chains for biofortified staples."
Biofortification is a great innovation in itself – proven to improve micronutrient access. But the use of digital technology for implementation in Nigeria and Uganda has been key to success. First, social platforms and digital communications are used to inform farmers about standards and train them in practices around biofortification. Digital marketplaces such as BioFort Stat in Nigeria and a sweet-potato-focused app developed by HarvestPlus in Uganda enable better supply-demand linkage. Finally, value chain data are tracked and stored on blockchain to ensure transparency. The New Fork and HarvestPlus are piloting with Vitamin-A-fortified maize in Nigeria (results expected in 2021). This is a great illustration of a comprehensive solution built on a wide range of technologies.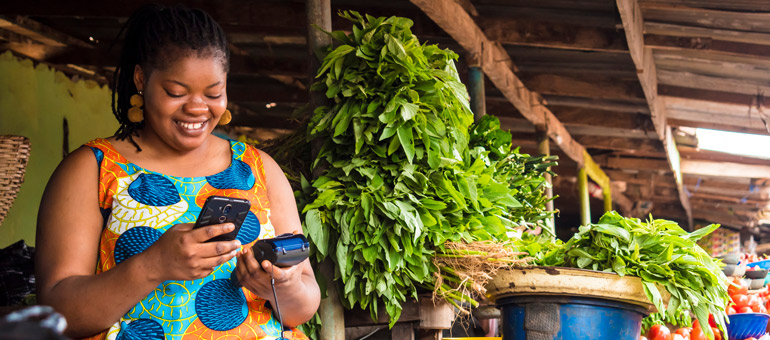 Another standout technical feat comes from the WFP Rome write-up of "Plus School Menus: The future of school menu design". School feeding programmes benefit children (in nutrition status and education), local agriculture, human capital and community development. The technology showcased here (NutVal, Cost of the Diet and the Partnership for Child Development School Meals Planner) already goes some way to supporting school meal planning – calculating the cost to nutritional content ratio of foods and the combinations of foods required to meet recommended calorie, macro- and micro-nutrient intakes at the lowest cost. This software has already helped schools in Botswana, Ghana and Nigeria to create nutritionally-balanced, market-costed school meals based on RNI. The PLUS Software (due July 2020) goes even further: adding a focus on locally-sourced foods and more detail on contextual factors (seasonality, food prices, target age groups, nutrient needs, dietary preferences). We are now able to develop these tools with relative ease, and the benefits are enormous: providing healthier, higher-quality meals at a lower cost, adapted to local contexts, while supporting local agriculture.
Not every example is an unmitigated success, which is why the report excels with its clear learnings and recommendations. The IDS, IFPRI and Gamos account of the mNutrition project (Using mobile-phone technology to change behaviour: Lessons from mNutrition) highlights the huge potential of digital tools to promote behaviour change around nutrition and agriculture, but by no means glosses over the challenges and limitations. Lessons from Ghana and Tanzania illustrate that reach and sustained uptake prove challenging, whether due to technical issues (network coverage, electricity, low tech awareness), illiteracy, or a lack of community engagement. Above all, it notes the risk of excluding the most vulnerable and marginalised. But we can't ignore the potential upside of well-designed mNutrition services providing clear, practical, relevant, tailored advice to hard-to-reach populations – so the article presents extensive recommendations and considerations to ensure success of such programmes. From emphasising the need for other supporting interactions to ensuring a balance between ease-of-use and tailoring to individual needs, there is plenty here to inform future efforts.
A final point to emphasise is the essential focus on disparities even within countries, where different regions may experience very different challenges. Nowhere is this clearer than in the Improving nutrition and health data to and from remote regions article. While data collection can be relatively straightforward in affluent areas, coverage of rural Sub-Saharan Africa remains low. Nutrition and health data in these areas are often unreliable, sporadic, non-representative or simply prohibitively costly to source. Again, UNSCN 45 moves quickly from the problem to a great solution, from Samburu County, Kenya. A group of women and community health volunteers were equipped with smartphones, solar charges, data bundles and an intuitive data-collection app, enabling them to collect household-level data from hard-to-reach communities.
With solutions like these, UNSCN 45 is undoubtedly a welcome dose of positivity and optimism at a difficult time.
But while there is cause for celebration, this report is certainly not an invitation to rest on our laurels. It's a call to action. Now more than ever, successes aren't only to be shared in exultation. They're to be shared in exhortation – to share, learn and double-down on the solutions that promise impact at the greatest scale.
The report showcases a wonderful abundance of digitally-enabled ventures led by various organisations across the globe. With such a proliferation of projects, we must guard against them becoming fragmented, isolated, disconnected or duplicative. At worst, if we don't come together, we risk repeating mistakes of previous projects and missing chances to capitalise on the highest-potential opportunities.
But while there is cause for celebration, this report is certainly not an invitation to rest on our laurels. It's a call to action. Now more than ever, successes aren't only to be shared in exultation.
Equally, combining efforts will undoubtedly see these solutions become greater than the sum of their parts. By learning from successes, we can scale the highest-potential solutions – duly adapted to new contexts – and simultaneously deprioritise those that face issues around cost, complexity, implementation, coverage, equity and inclusion.
In her piece, Jenny Walton (CGIAR) reminds us: "Take risks! Innovation, by definition, is unproven." Every innovation mentioned in the UNSCN report should be applauded. Each one is evidence of a risk taken: someone trying something new to achieve something more. And long may that continue! The fight for better nutrition is a marathon, but these pilots are the sprints that enable us to accelerate our progress. We must be creative in our thinking and agile in our approaches to experiment, fail fast, learn, and thereby move farther faster in the long-term.
Global organisations are perfectly placed to learn from local projects, collate case studies, consolidate evidence, shape best practice and disseminate to stakeholders. Based on the richness of information in reports like UNSCN 45, we can inform governments, engage with the private sector, inspire and enable action. This is how we will turn a multitude of projects into success at scale. And this is how we ensure that people around the world benefit to the fullest extent from the enormous opportunities afforded to us by digital innovation for nutrition.