Geneva, 7 June 2020 -
Scares involving food contamination – such as with E. coli or salmonella – tend to make headlines when they occur in high-income countries. These rare outbreaks are all the more dramatic because consumers usually take for granted that the food they purchase will be safe: in high-income countries, governments have rigorous food safety standards with staff and budgets to support their enforcement, and many major retailers establish their own standards and procedures for ensuring that the food on their shelves is safe to eat.
Consumers in many lower-income countries are not so lucky. Historically, standards have typically been applied only to products destined for export and the supermarket shelves of higher-income countries. Limited controls exist for ensuring that food entering the domestic market is not contaminated during production, transport, storage, or processing. Rules that exist on paper often go unenforced due to limited capacity and resources. And many people in lower-income countries buy their food from informal markets and sellers, who may have poor infrastructure to keep food safe, are rarely subject to enforced standards, and often lack training on food hygiene practices. In the home, a lack of access to safe and clean water makes ensuring hygiene during food preparation difficult. 
It is thus not surprising that most of the global burden of foodborne disease (estimated at 600 million illnesses and 420,000 premature deaths in 2010) is borne by those living in low- and middle-income countries (LMICs), who made up 75% of deaths from foodborne illness (despite comprising only 41% of the global population). This is particularly true for Africa, where the per-capita burden of foodborne disease is about 27 times that of Europe or North America. Young children are particularly susceptible, shouldering about 40% of the burden.
Foodborne hazards include viruses, bacteria, moulds, protozoa, helminths (worms), and chemicals, which can cause both acute diseases (particularly diarrheal diseases) and raise the risk of long-term illnesses—for example, aflatoxins are associated with liver cancer and arsenic with skin, lung, and bladder cancer. Such illnesses can be devastating wherever they occur, but they are particularly problematic when occurring in contexts where the health system has limited capacity to diagnose or treat them.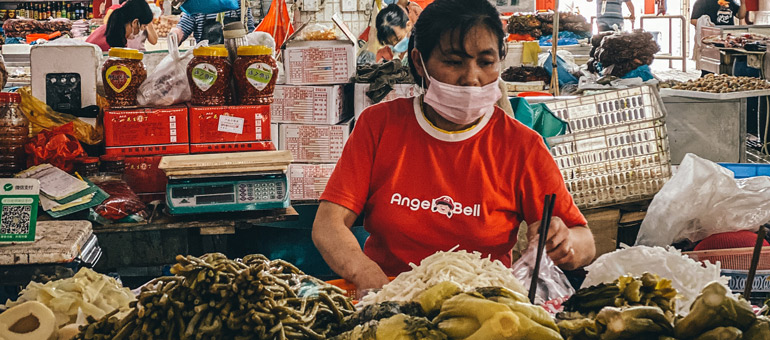 Foodborne illnesses also entail economic costs, due to sickness and loss of life, treatment costs, and impacts on trade; the World Bank estimates these at about 20 billion US dollars per year. Finally, many of the foods at highest risk of contamination are also among the most nutritious – things like dairy products, meat, fish, and fresh vegetables. Reducing malnutrition in all its forms requires that consumers can access and consume these key foods in safe forms. 
There is thus an urgent need to improve food safety across LMICs. More work is needed to understand the sources of food safety risks and how they can be mitigated within the complex, dynamic, and largely informal food systems that dominate in LMICs. Stringent food safety standards can harm small suppliers and retailers, and unsafe products, once sorted out of priority value chains, can end up being diverted to low-income markets at discount prices. Both results can have unintended negative consequences for equity, including gender equity. Ensuring food safety also has costs for supply chain actors, particularly smaller enterprises; in the absence of industry-wide standards, they need to be able communicate to consumers that their food is safer than others' to be able to charge a premium and recoup that cost. LMIC consumers are becoming increasingly aware of food safety risks, but more needs to be done to understand how those concerns can be translated into higher standards from governments and retailers. 
Ensuring the safety of nutritious food is central to achieving GAIN's mission of improving nutrition, especially for the most vulnerable. As such, we are delighted to be launching a new project with the US Agency for International Development; EatSafe - Evidence and Action Towards Safe, Nutritious Foods. EatSafe will consolidate and add to knowledge about food safety, develop and test new communication tools for vendors and consumers, and generate evidence on empowering consumers to demand safe, nutritious food. In partnership with the International Livestock Research Institute and Pierce Mill Media, EatSafe will initially focus on five sub-Saharan African countries but reap lessons that can be applied much more broadly.
The project will benefit from synergies with existing GAIN work in urban governance for food systems and support to small- and medium-sized enterprises. It will build on other global initiatives in the health and agriculture sectors, efforts targeted at particular hazards, and African Union plans to elevate food safety's place on the continental agenda. Together, we aim to cement food safety as a key pillar of food and nutrition security.
Videos
---