London, 15 April 2021 -
Global food systems have experienced massive disruptions. Like many other natural disasters, COVID-19 has been a "multiplier of vulnerability", hitting the most vulnerable the hardest. 
In the nine countries where GAIN works, lockdowns and border closures to mitigate the spread of the virus and the concurrent economic impact could greatly increase hunger. In some places, restrictions in movements and lay-offs would mean reduced accessibility to fresh produce and nutrient-rich animal-sourced foods, resulting in millions of people having to resort to less nutritious foods.
Some of the longer-term impact of COVID-19 on food systems include: loss of livelihoods and disrupted access to food, leading to a potential increase in hunger; threats to food system stability and resilience; shifts in diets to less nutritious foods, with threats to health; ongoing uncertainty constraining long-term investment in the food and agriculture sector; and diminished attention to climate and biodiversity, threatening food system sustainability.
A few months after the initial lockdown, I went back to the office to pick up an office chair. The whole area of the city was deserted, an angry man was shouting obscenities about health precautions at an empty street. There was no one else to hear him. The usually bustling prepared lunch and coffee outlets were all still. 
The same experience has been repeated all over the world. Imagine a street market in Nigeria, normally bursting with activity, suddenly frozen, abandoned, and locked. The change was so dramatic that it could be seen from space.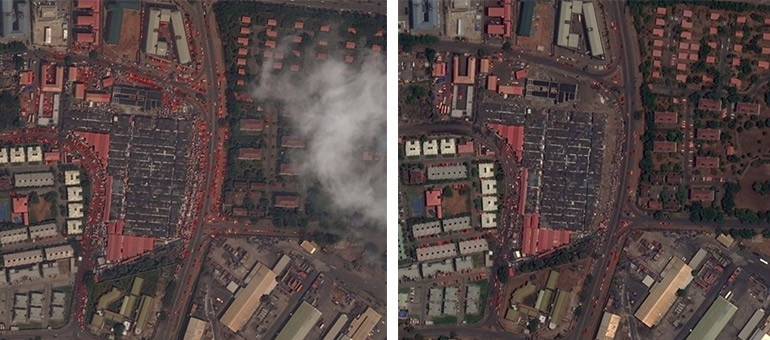 Lockdown became a fact of life for nearly all of us at GAIN. For some, it has been long and recurrent. For others, brief but savage. For many, it has morphed into a series of related restrictions, more or less tolerable as the months have relentlessly marched on.
We are still dealing with the consequences of this virus and the measures put in place to control it. So many critical players in local food systems have been wounded. This morning, we heard from Eunice Mutua, whose company Select Fresh Produce in Kenya took a massive hit. Her case shows how temporary restrictions can cause lasting damage: she works with farmers who grow nutritious orange flesh sweet potato. When inter-county mobility was suspended early in the pandemic, she was not able to reach those farmers and provide the usual technical assistance and quality assurance that she prides herself on. Now the tubers they have grown no longer meet the quality standards her established buyers demand, so she must evolve her business to fill a different niche. GAIN is proud to have already provided emergency financial assistance to over 100 companies in eight countries, and plans to reach perhaps as many as 200 before the end of this year. We are following this up with technical assistance so that these companies and more can "grow back better" once the acute crisis has passed.
We are still dealing with the consequences of this virus and the measures put in place to control it. So many critical players in local food systems have been wounded.
For many of our existing projects, we had to adapt our ways of working to minimise person-to-person contacts. In Bangladesh, we were working with the Shornokishoree Network Foundation to engage adolescents to eat better. Overnight, the schools closed, and with them the after-school clubs that were at the centre of our strategy. Unable to sit and talk with the adolescents, we quickly re-engineered this project to major on digital engagement. We started by having adolescents make video statements about their life dreams, and we were astonished to see one of them clock up no fewer than eight million likes on Facebook. Suddenly, a challenge had become an opportunity. Our campaign now has over one million adolescents in Bangladesh pledging to eat more healthy foods. At least half of them signed up digitally. This pattern repeated itself around the world, where we had to think of new ways to dialogue and co-create with people we would normally meet with in person.
We wondered whether our colleagues around the world would be able to adapt to working from home. They have adapted magnificently: measured by the (admittedly very crude) metric of project budgets, our activity is 50% larger than the previous year. We now regularly "pop in" virtually on each other around the world where previously we would have waited until it was possible to travel in person. We play each other music from our different cultures, and let our colleagues have a glimpse into how we live at home. We no longer pretend that we are superhumans who are able to carry on unruffled when we are dealing with huge problems in our families – instead, we try and empathise with the realities of life in all its dimensions.
Get a glimpse of how – together with our partners and local authorities – we have contributed to keeping food markets working across our GAIN countries in this short series of five videos shot in Bangladesh, India, Kenya, Nigeria and Mozambique. We have tried to capture what this crisis has felt like to the people who power the food systems of poor communities. Each film is only a few minutes long. We hope they will transport you beyond your lockdown.
Videos
---