Geneva, 23 September 2021 -
Submission to the UN Food Systems Summit (UN FSS) Commitment Registry – Global Alliance for Improved Nutrition (GAIN) 
 
The United Nations Food Systems Summit (UN FSS), taking place on September 23, 2021, marks a key milestone on the journey towards food systems transformation to achieve the Sustainable Development Goals by 2030. It has created a new agenda, with a nine year delivery challenge: to ensure people get enough food to eat and the right food to eat, and do not consume too many unhealthy foods – while safeguarding human rights, the environment, livelihoods, gender equity and resilience in food systems. It has also underlined the absolute urgency of this new agenda for people and planet.
 
The Global Alliance for Improved Nutrition (GAIN) commits to support these goals by improving access to nutritious and safe foods in a sustainable way. 
Our contribution will be via our focus on tackling the poor diets that affect billions of people. 
We will:
- Invest a minimum of USD250 million over the next five years to support implementation in national food systems transformation pathways and identified priority actions where we work: in Bangladesh, Ethiopia, India, Indonesia, Kenya, Mozambique, Nigeria, Pakistan and Tanzania. As always, we will do this supporting and working together with national and local governments and a wide array of partners.   
- Provide leadership and support to the following major new initiatives:
Act4Food Act4Change - youth leaders pledging action on food systems transformation. Together with Food Foundation, we will keep on hosting the coordination secretariat until the movement becomes sustained. 
Continue to co-lead and support the Coalition of Action for Healthy Diets from Sustainable Food Systems for Children & All. This includes a significant set of initiatives on food safety. 
Support the implementation of the Zero Hunger Private Sector Pledge until at least the end of 2022 and ensure a smooth transition of the Zero Hunger coalition to FAO, WFP and IFAD, including establishing a strong link between the Pledge and the Coalition. 
Continue to provide leadership and support the to the True Value of Food Initiative that emerged from Action Track 1 and the UN FSS Science Group 
Play a direct role in the Alliance for Anaemia Actions and Wasting Reset work emerging from Action Track 1, linking these vital initiatives to the Nutrition for Growth (N4G) Summit 2021
Maintain support to the Global Food 50/50, a gender and food systems accountability initiative which emerged out of the Gender Lever and Action Track 1. 
With USAID, Eleanor Crook Foundation, the Development Finance Corporation and others, establish a USD50m GAIN/Incofin Nutritious Food Financing Facility (N3F) to support SMEs providing healthy foods. Together with WFP we will continue to host the SUN Business Network 
- Ensure a smooth and transparent hand-over process of all work and initiatives created as part of Action Track 1 of the UN FSS to other stakeholders who will take these forward. 
- By mid-2022, set institutional and programmatic targets to green our work, including our own carbon footprint. We will work with WWF, Food and Land Use Coalition (FOLU) and other partners to find ways to produce nutritious foods more sustainably. 
- Promote and Support accountability - to this end, we 
will continue to co-chair the Food Systems Monitoring Countdown Project with Johns Hopkins University and FAO
have signed the Accountability Pact, an international pact on monitoring for accountability for action on food systems.
- Maintain strong commitment to evidence as the guide to policy, with transparency in all we do and who we work with
A year ago, Lawrence Haddad, in his capacity as the Executive Director of GAIN, was nominated to chair Action Track 1 of the UN FSS: Ensuring Access to Safe and Nutritious Food for All. With the Summit taking place on September 23, it brings an end to the work of Action Track 1 in the Lead up to the Summit.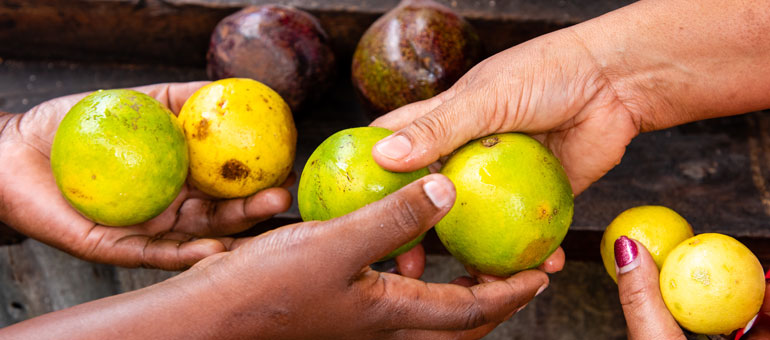 In close collaboration with many other components of the Summit, such as the Dialogues, the Levers, the Champions network and the other Action Tracks, we learned from a diverse Action Track 1 leadership team, bringing together a wealth of expertise, knowledge, and passion. This team led a public consultation process over a 10 month period that contributed 40+ game-changing ideas to transform food systems - on ending hunger, promoting access to healthy food and making food safer - each of them actionable, sustainable, and with significant potential for impact at scale across all food system outcomes. 
We documented this process and aimed for full transparency by sharing weekly updates between November 2020 and September 2021 and convening regular meetings and open public fora with the full Action Track 1 Leadership Team, including Member States. Representatives from over 30 member states brought their national priorities and expertise to co-develop these game-changers, grounded in the reality of local experience. We recognise that all of these people and organisations have generously given their time, energy and ideas to this process and we thank them deeply. 
 
Finally, we commit to expand our boundaries, to work with organisations who are not usual suspects for us, many of which we were fortunate enough to meet in the UNFSS related work: more farmers, young people, women entrepreneurs, experts in climate, ocean and soil health, decent work, resilience and new government departments, new businesses, and many more. 
The spirit of can-do change, with a systems mindset, is a great legacy of the Summit and a new foundation for us all.