Geneva, 12 August 2020 -
For many adolescents, COVID-19 has meant school closures, little contact with friends and a frustrating barrier to their lives and livelihoods. As difficult as those challenges are, however, the coronavirus has had even more serious repercussions. Namely, food and access to it. Although the data is still coming in, it appears that COVID-19 could reverse decades of hard-won gains when it comes to food security. 
"The whole world is now devastated by the effects of COVID-19", says Kazi Sajid Azmain, 16, who lives with his four siblings and parents in the town of West Garakhola Madhukhali, just outside of Dhaka, Bangladesh. "COVID-19 has changed the eating habits of many". 
And not for the better.
Bangladesh is just one of many developing countries devastated by the coronavirus. Up until recently the country was winning the war against malnutrition and want. Recent events, however, are stalling progress to the Sustainable Development Goals (SDGs) - including SDG 2 - Zero Hunger.  
Between 31 March and 5 April, 2020 the nongovernmental organisation BRAC conducted a rapid perception survey on COVID-19 in Bangladesh. It found that fully 18% and 10% of urban and rural respondents, respectively, had no food stored at home, while 37% and 21%, respectively, had only 1–3 days food in reserve. 
The whole world is now devastated by the effects of COVID-19. It has changed the eating habits of many.
Despite this, both teens are benefiting from the Global Alliance for Improved Nutrition (GAIN) programming. Throughout the pandemic Azmain and Chowdhury continued to learn about nutrition and healthy choices thanks to one of the GAIN's many programmes targeting youth. Throughout the pandemic, Bhalo Khabo, Bhalo Thakbo (Eat Well, Live Well) has continued to operate throughout the country.
The campaign - which is led by adolescents for adolescents - aims to motivate young people to make better choices in order to fulfil and nourish their dreams and aspirations. Another goal is to persuade policy makers to develop and implement supportive policies to improve adolescent diets. Thus far, more than 875,000 boys and girls (the goal is one million) have signed up to the Pocket Money pledge, promising to make healthier food choices by signing on- and offline pledge forms.
In the time of COVID-19 pandemic the adolescents are suffering from problem of nutrition.
COVID-19 has changed the eating habits of many
Children, women, and youth are particularly vulnerable. Nevertheless, and according to Morris, adolescents tend to be overlooked when it comes to programmes and policies designed to mitigate the effects of COVID-19.
"Poor nutrition in adolescence isn't as visible as malnutrition in young children," says Morris. "We tend not to notice if a young person is a little bit short or a little too thin."
As with early childhood, healthy diets in adolescence paves the way for a healthy adulthood. Although not as dramatic as the problems caused by malnutrition in early childhood, a poor diet in youth can lead to short term problems such as poor learning outcomes, inattention, and other cognitive deficiencies.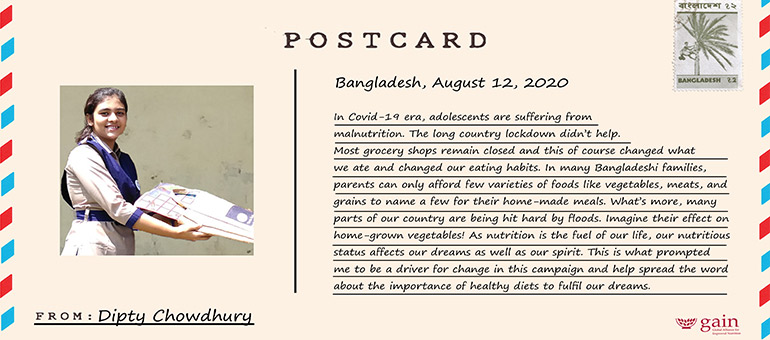 It also lays the groundwork for a slew of longer-term health issues such as noncommunicable diseases. These include diabetes, heart and lung diseases and various cancers. Adolescent girls are often only a few years away from giving birth, and nutritional deficiencies at conception and during pregnancy can lead to low birth weight and a higher risk of maternal mortality and morbidity. Obesity can result in high blood pressure, depression, and metabolic disorders such as diabetes. 
We use school as a platform to engage with youth and those are closed. We also can't do community meetings, which means we have to move our programmes online. That's okay for a while but isn't sufficient for impact in the longer run.
The bottom line is that good nutrition is necessary in both the short- and the long-term - and no more so than during critical periods of growth and development. Ultimately, adolescents are the parents of the future; their nutritional status shapes the health of the next generation.
"We have become aware of the importance of creating a healthy diet through this campaign," Azmain says. "We understand that healthy food is not something that is expensive but is easily available."
"By taking part in the campaign, I have learned about the many reasons why the adolescents of my country suffer from malnutrition," says Chowdhury. "Now, I do believe that our strong desire can remove malnutrition from our country."
"Regardless of the challenges posed by COVID-19 and other more entrenched issues, one of the advantages of targeting adolescents," says Morris, "is that youth tend to have more energy and are capable of deploying their creativity to find solutions to one of the developing world's most pressing problems."
Chowdhury is a clear example of that energy. "Nutrition is the fuel of life," she says. "The condition of our nutrition affects our dreams as well as our spirit."
Images
---
Videos
---