Vatican City, 6 November 2018 -
This declaration is based on the presentations and findings of a meeting of global experts on food safety and nutrition convened by the Pontifical Academy of Sciences with support from the Global Alliance for Improved Nutrition (GAIN) held at the Vatican, 12-13 September 2018.
The key objectives of the workshop were to galvanise new approaches to food safety and nutritious foods within the wider agenda of improved food security in support of the Sustainable Development Goals (SDGs), to share the latest scientific evidence and innovations, and to develop recommendations – with a focus on food systems in low- and middle-income countries – leading up to a set of global meetings on food safety in 2019  by FAO and WHO in collaboration with other partners. The workshop was attended by leading scientists, senior government representatives, business executives, and faith leaders, as well as senior officials from the United Nations and the World Bank.
We the signatories below express our personal support for this declaration.
Food Safety and Healthy Diets 
Our starting point is that all people – especially the poor and most vulnerable – should have access to the safe, affordable and nutritious food, which is fundamental to sustaining life and human dignity, and which is an essential human right. Poor diet is today the number one risk factor for disease globally, linked to one in five annual deaths according to the recent Global Burden of Disease Study.  A healthy diet is a concept, which includes but goes beyond safe foods.
The Sustainable Development Goals (SDGs) recognise that improved nutrition is a core driver for all human development. Malnutrition is a complex and dynamic phenomenon with distinct but often overlapping expressions: from hunger and stunting, to mi­cronutrient deficiencies, and to overweight and obesity.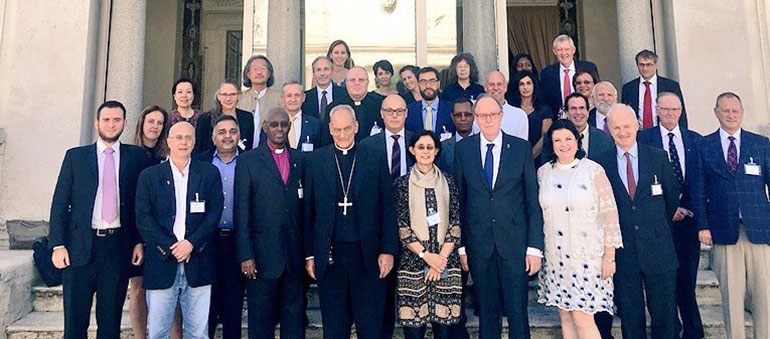 Recent progress in tackling these forms of malnutrition is mixed. For example, stunting has been reduced and child survival increased, although both lev­els remain unacceptably high or low, respectively. But last year the number of hungry people in the world rose to 821 million from 777 million in 2015 – yet it is estimated that one-third of the food produced annually, was lost or wasted. We also face huge challenges to address micronutrient deficiencies, which may harm approximately two bil­lion men, women and children – often with irrevers­ible health consequences. Worldwide obesity is rising, having almost tripled to more than 800 million people between 1975 and 2016. This is not just a high income, urban phenomenon, but is increasingly impacting lower income groups and rural populations. Overall, the food system is also placing huge pressures on the environment, as a major contributor to deforestation, air and water pollution, and climate change. High levels of food waste and food quantity and quality loss are part of this environmental footprint and an important contributor to malnutrition.
Food safety is a neglected dimension of the food and nutritional security challenge, and bold leadership is needed at the global and national levels to give it the necessary policy attention and resources. Food safety is intimately linked to health as billions of people are exposed to potentially harmful viruses, bacteria, parasites, toxins and heavy metals in their foods. At least one in ten people suffer from eating unsafe food. Better food safety can be linked and mainstreamed into improvements in productivity, food accessibility, and the affordability of nutritious foods, although we do know that some of the most nutritious foods (animal source foods and fresh produce) can be the riskiest and some of the least nutritious foods (oil, sugar, salt, highly processed) less likely vehicles for food borne disease.
Food safety and malnutrition need to be addressed in concert. The rise of diet-related NCDs as contributors to the burden of disease illustrates that healthy diets necessitate the consumption of safe food and the consumption of nutritionally appropriate combinations of safe foods.
To read the full statement visit the Pontifical Academy of Sciences website