Jakarta, 20 April 2020 -
Seizing an opportunity to provide the nutritious foods needed to help keep people healthy during a pandemic came naturally to Rani, who is used to seeing potential where others might miss it.
Living in Sukabumi, a mountainous district 100 km east of Jakarta, Rani and her mother, Imelda, established in 2012 a small business processing fish and vegetables into healthy snacks. Imelda explained, "Most people here work as smallholder farmers. We send our fresh products to the greater Jakarta area. When the products are not absorbed by that market, they are thrown away." The mother-daughter duo are now leveraging the value of that would-be trash by processing it into nutritious vegetable and fish chips.
"We are working harder than usual during this COVID-19 situation. Our revenue is increasing. I think people need more nutritious food. I've just sent 1,000 boxes of I-FIT Serealikan to a buyer who wants to donate it to medical teams fighting COVID-19 in hospitals in West Java," reported 22-year-old Rani to fellow winners of the IPLAN 2019 Business Innovation Challenge in their WhatsApp Group.
 
In October 2019, Rani heard that GAIN's Indonesia's Postharvest Loss Alliance for Nutrition (IPLAN) was running a Business Innovation Challenge (BIC) to surface local innovations to reduce loss and waste of fish. The Challenge call for innovations in processed fish-based foods that reduced loss and waste. Imeda and Rani saw an opportunity. A few years back, the local government had started encouraging local farmers to cultivate pangasius, a medium-sized catfish. Pangasius aquaculture is relatively easy, cheap, and has potential for mass production. Most of the fish is either exported or sold to restaurants; that which does not meet high standards is wasted. Imeda and Rani planned to process this lower-grade fish into new products. 
We are working harder than usual during this COVID-19 situation. Our revenue is increasing. I think people need more nutritious food.
Rani's idea was to make a healthy drink from fish: no one in Indonesia was processing fish into a healthy cereal drink, even though another cereal drink produced by a major company was already popular. Using her background in food technology, Rani suggested to her mother to experiment with producing this drink, which she called IFIT cereal, and to submit it to the BIC. "We joined this competition," Rani explained, "because we wanted to get constructive feedback on our product. If we were selected as a finalist, our product would be tested in a national food laboratory, which was not easy for us to access because we are not in the capital city, and it's expensive. If we won, we would get the seed funding we needed to expand our business."

The IPLAN 2019 BIC received 277 proposals. Although IFIT cereal was seen as innovative, some jury members doubted its potential taste. "We estimated taste of the products based on the submitted ingredient," said Wini Trilaksani, a professor from Bogor Agriculture Institute and one of the BIC judges. "Some of us thought that fatty pangasius would not taste good in a milky cereal drink, but others wanted to give it a try for its novelty. Moreover, we have a lot of pangasius supply and hanjeni [a local grain, also known as Job's tears], which could substitute for oat. We see the potential." Additionally, IFIT scored high on its nutritional content, with high levels of protein, iron, zinc, and calcium.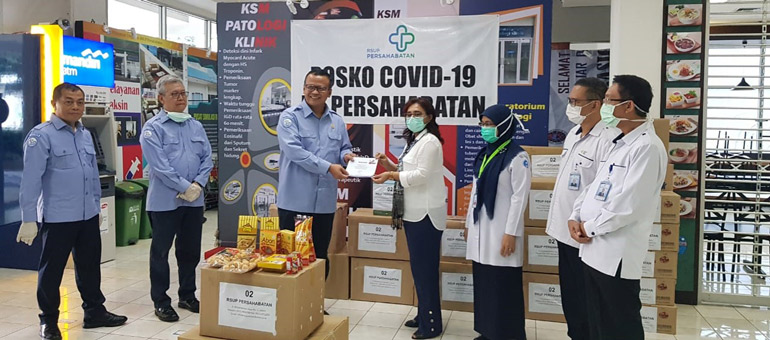 The IFIT fish cereal drink was selected as one of the five IPLAN BIC winners, and Rani used the seed funding provided by GAIN's IPLAN programme to meet food industry licensing requirements, such as renovating the production site and purchasing improved equipment. The award ceremony was a highlight of the National Fish Day ceremony, attended by thousands of people from all provinces of Indonesia. The winners' products were displayed at a booth in the exhibition area, which was visited by the Minister of Maritime Affairs and Fisheries (MMAF) and other high-level officials. One member of the national parliament approached Rani and ordered 1,000 boxes of the cereal drink. "This is my first order," exclaimed an excited Rani, "and I am very proud and happy". 
Not long after, the MMAF ordered 2,000 boxes of the product for use in its Eating Fish campaign. From January to March 2020, Rani and her mother sold over 6,000 boxes (each containing five sachets) through direct sales and exhibitions. Their local district fishery office, proud of their achievement, lent them a wrapping machine to help with packaging. 
As the COVID19 crisis escalated in Indonesia, even more orders came in. "Some people know about this product and order it to donate to health workers. They thought that the product could help health workers eat a quick nutritious snack during their busy days." Rani and Imelda are currently anticipating more orders from the MMAF. "One of the MMAF programmes during COVID-19 is to help SMEs working on fish-based foods. It's also helping our fishermen, whose products are not being absorbed by the market. We use our budget to procure those SMEs' products for use in our social safety net program and distribute them to those in need," explained Artati Widiarti, advisor on social economic and culture at the MMAF. 
Despite the many challenges for SMEs in the present context, Rani is optimistic about their future - and for what it means for her country. "We have a big dream. We want this product to be listed in big retail markets in Indonesia, so we can contribute directly to improving people's nutrition. We believe that our highly nutritious product could help reduce anaemia and therefore contribute to the national programme to reduce stunting."