London, 14 March 2018 -
Babies are the nutritionist's biggest challenge. Their rapidly developing minds and bodies need large doses of nutrients, yet their stomachs are small and unable to hold much of anything. Step one is well proven – exclusive breastfeeding, wherever possible, for six months. After the initial six months of being breastfed, they should continue to be breastfed while slowly introduced to other foods. Being quintessentially vulnerable, they must be protected against unsafe food, the inculcation of bad eating habits such as dependence on sugary foods and drinks, and anything which could reduce their intake of breastmilk below optimal levels. No wonder that families and policymakers alike despair of being able to provide the right solutions.
At GAIN, we believe that older infants and young children need to eat a variety of foods which are dense (per volume) in all of the necessary nutrients. There are some great natural foods which do meet these requirements, and we are excited by a recent trial showing that an egg a day can markedly improve the growth of poor children in Ecuador, as well as by carefully analysed observational data showing the contribution of fruit, meat, fish, and dairy to the same outcomes. But increasingly, studies such as one recently reported from Guatemala are showing that it is impossible to meet all of a baby's nutrient needs from tweaking locally available diets. In particular, sufficient quantities of iron, iodine, zinc, and niacin can be really difficult to work into children's diets using locally available and affordable foods. These micronutrients are critical to, for example, brain development and a strong immune system.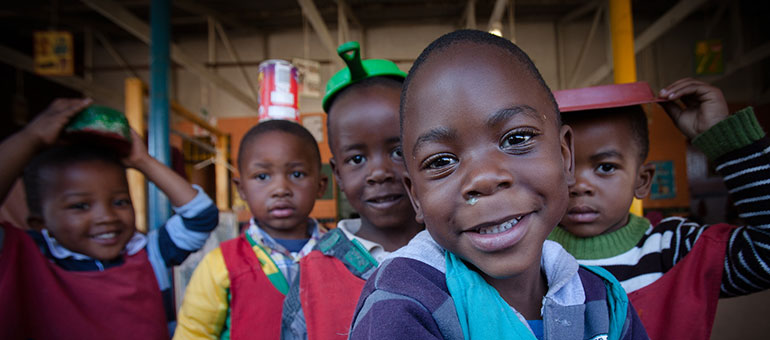 This is why nutritionists have worked for decades on the development of special foods for low-income settings, including both fortified porridges and fortified products in powder or paste form which can be added to standard family foods. These approaches were recently discussed at a special seminar on food fortification held at the European Commission's InfoPoint venue in Brussels. At this seminar, Saul Morris, GAIN's Director of Programme Services, briefly presented the evidence that these products can deliver better growth outcomes, highlighting the programmes that distribute them for free, as well as the huge challenge of selling them at an affordable price for the poor and at the same time sustaining the business.
Because profit margins on these products are so tight (especially when the retail price is kept low enough to be accessible to the poor), many historical projects have focused on subsidising either capital costs or recurrent inputs, or providing technical assistance which can reduce production costs for example by substituting ingredients. Alternatively, one of the world's largest nutrition programmes for children, the Special Supplemental Nutrition Program for Women, Infants, and Children (WIC) in the United States of America subsidises the consumer instead, using vouchers to increase poor consumers' purchasing power. More recently, projects such as the Obaasima project in Ghana (focused however on special foods for women rather than children) have subsidised unbranded marketing of special fortified foods.
Making and selling the right foods for children is uniquely challenging for caregivers, program managers and businesses alike. But abandoning the next generation to nutrient-empty snacks or age-inappropriate family foods cannot be an option, so we must continue to search for scalable and sustainable ways of improving the quality of every child's diet.