Geneva, 19 July 2019 -
Last week, we co-led a 5 day Executive Short Course entitled "Together for Nutrition: Public-Private engagement to improve the consumption of nutritious food". The course, the first of its kind, was made available by the 6 funders who together support GAIN's Making Markets Work for Nutritious Foods programme.
Selected from a pool of 130 applicants, we spent the week with 26 participants drawn 50/50 from the public and private sectors. The course was hosted at the Graduate Institute in Geneva.
On Day 1, we learned together about malnutrition (nature, distribution, causes and consequences), the role of business in nutrition and why public private engagements have been so limited to date. On Day 2 we learned about demand creation—why we need to do it and some examples of how it has been successfully done. On Day 3 it was all about business models to make more nutritious food available at an affordable price with 7 case studies from multinationals, social enterprises and small and medium enterprises (SMEs). On Day 4 we tackled the Enabling Environment (policy and finance) as well as Conflict of Interest. On Day 5 we talked about assessing impact and then had our 5 groups present their hands -on real life country specific week long projects for a public-private engagement to improve the consumption of nutritious food to a Dragon's Den team of 3 external leaders in nutrition.
We had several senior nutrition leaders present at two of our dinners (from the public and private sectors) including World Food Prize Winner David Nabarro, Diane Holdorf from the World Business Council for Sustainable Development, Gerda Verburg, SUN Movement Coordinator, and Imad Farhat, Vice President of Taste Innovation at Firmenich. The participants had the chance to spend one evening hosted by the Chefs' Manifesto (a movement of Chefs committed to reaching SDG2) at la Ferme du Bude and got to taste a "Future 50 Foods" dinner composed of a 3 course meal made from 50 of the most sustainable and environmentally friendly crops and vegetables for the planet.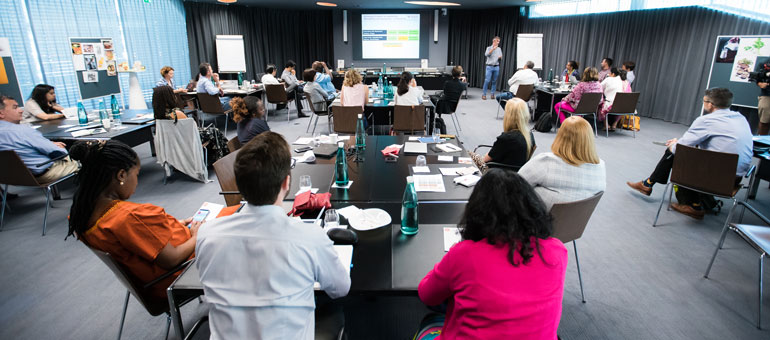 The participants were brilliant. They were incredibly diverse in terms of geography, seniority and public/private experience and all are committed to being beacons as and for a new set of explorers in the largely undiscovered territory of advancing nutrition through public private engagements.
Everyone learned from each other and we, as co-leads, were no exception. Our takeaways from the 5 days included the following:
There is a vast set of possibilities and opportunities to advance the consumption of nutritious food, with few roadmaps. The terrain includes food and non-food companies, multinationals, large national companies, start-ups, social enterprises and small and medium enterprises. But it also includes food safety authorities, municipal authorities, school authorities and street food authorities. There are all these potential assets out there and we are failing to engage with them to see how we can advance nutrition. By only focusing on the state, public health nutritionists are missing opportunities to advance nutrition. By not focusing on advancing nutrition, the private sector is missing commercial opportunities in a changing world where consumers are seeking healthier yet tastier options. Opportunities are being missed on all sides.
When we include businesses in the nutrition conversation our mindset changes–for the better. We begin thinking about incentives and motivations more. In the public sector, funds are raised to design programs to deliver nutrition inputs to "recipients". There are exceptions of course, but sustainability is not as strong a religion as it is in the private sector, nor is scalability. Failure to achieve either in the private sector is existential, while achieving them in the public sector it is a triumph. The public sector tends to think about promoting participation, whereas the private sector really has to sell its services and products because people have choices beyond simply not participating. In much of the small group work we could hear people saying "but why would organisation x" want to do that? We don't hear that so much when businesses are not in the conversation, and we need to.
The role of brands and marketing as a way to drive nutritious foods consumptions. At the heart of marketing are emotions and persuasion techniques that play a big part in the uptake of food brands. Invoking, generating, and, if done for the wrong reasons and against the evidence, preying, on emotion is part of getting people to buy and use your brand. In the public sector there is less of a tradition to use emotion because it is seen as contrary to fact and evidence. It can be contrary of course and the key is to find the overlaps.
Our participants from multinational companies (MNCs) were not as familiar with the innovations in the Small and Medium Enterprise (SME) sector as one might have thought. For example, the milk ATMs in Kenya (pasteurised milk bought from a refrigerated automatic teller machine in the amounts the consumer wants) were quite revolutionary for many of the big company participants. This reminds us that much of the innovation in reaching the poorest consumers is happening with the SMEs and there is much to learn there.
The participants were really interested in Greg S. Garrett's session on finance. Much of the discourse in financing for nutrition in the public sector is getting "more money for nutrition and more nutrition for the money". This means more public funds for nutrition specific programmes (where the primary outcome is nutrition) and getting more of the public funds that are in related areas such as agriculture, education and social protection to work harder for nutrition. Both are important of course. But what about getting "more nutrition FROM the money that is out there"?  When you take that additional perspective there are hundreds of billions of dollars in the hands of private investors that could be invested in small and medium businesses that are producing, storing, distributing, processing and retailing nutritious food. But they need public sector funds to de-risk the initial investment, to prime the pump and to ensure the investments really do improve the consumption of nutritious foods.
It is clear that, together, this group has begun to build a set of leaders who are more equipped and not afraid to entertain and explore the idea of public-private engagement for improving the consumption of nutritious food. We plan on running this course again next year and thanks to this first cohort we have many ideas for improvement. We also have many fond memories and still have smiles on our faces from the learning and the fun.
Consider joining us next year to meet unlikely partners who you can work with, together, to accelerate nutrition improvements!