Geneva, 31 July 2018 -
Around 1.2 billion people, or 1 in 6 of the world's population, are adolescents aged 10 to 19. Adolescent nutrition is frequently considered to be the second most important period of physical growth in the life cycle, after the first year following child birth. The rapid physical, cognitive and psychosocial growth and development that takes place during this period influences an individual for the rest of his or her life. Yet, nutrition campaigns and other health care services are less targeted at adolescents than other age groups.
Many health complications that occur during adulthood can be prevented by adopting better habits during adolescence. This is why an increasing number of organisations are recognising the importance of developing nutrition interventions to target this specific age group.
The Global Alliance for Improved Nutrition (GAIN) and the World Health Organization (WHO) are amongst those organisations fully committed to taking action in adolescent nutrition. In June 2018, the two organisations convened a two days joint consultation workshop "Adolescent: Agents of Change for a Well-Nourished World" in Geneva, which brought together global nutrition and development experts from the public and private sectors.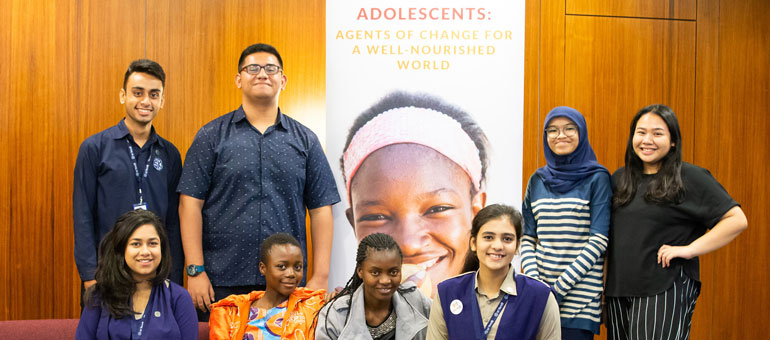 Nine adolescents from four different countries (Bangladesh, Indonesia, Pakistan and Zambia) took part in this unique event and were able to raise their voices in front of country stakeholders, experts, development partners and private sector actors, and share their thoughts on nutrition-related issues in their respective countries, as well as on a global scale.
During the event, GAIN facilitated discussions with the adolescents and asked them about their daily eating habits, the meaning of food in their culture and their thoughts on the importance of nutrition in order to live healthy lives. The outcome is a series of short video interviews, which offer a quick glimpse into their realities, dreams and memories while showing their willingness to be real "agents of change".
Images
---
For more photos, please visit our Flickr photostream
Videos
---
For more videos, please visit our youtube channel