Washington, 12 August 2019 -
Today is the United Nations International Youth Day, a day that recognises and celebrates the role that young people play in enhancing our global society. Young people have never been more vocal about their expectations of their leaders and the future they want to secure for themselves and the next generation. 
Evidence of this is all around. Greta Thurnberg was just 16 years old when she inspired the #SchoolStrike4Climate movement; in the US the members of the Sunrise Movement are challenging Congress and disrupting the shape of the Democratic Party; in Indonesia, Melati and Isabel Wijsen and the movement they inspired succeeded in getting single use plastic banned from their home island of Bali; and in Dhaka, thousands of school students took to the streets in the wake of yet another tragic road traffic accident, to tackle illegal and unlicensed vehicles and drivers. 
We are moment in history where the agency of 1.2 billion adolescents has the power to change the course of our society. 
However, the diets of these adolescents, 90% of whom live in low-middle income countries, are threatening their future. At GAIN, we've been asking ourselves how we can work with these young people to ensure they have quality diets from sustainable and healthy food systems.
To better answer this question, in June 2018, GAIN collaborated with the World Health Organisation (WHO) to host a consultation, "Adolescents: agents of change for a well-nourished world".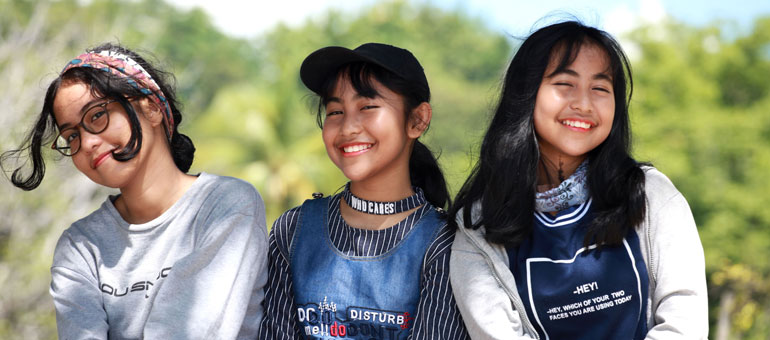 The consultation brought together 10 adolescents from Bangladesh, Indonesia, Pakistan, Mozambique, and Zambia, as well as experts from youth organisations, the nutrition sector and other organisations with experience of collaborating with young people. We were determined to learn from them all. 
Three principles emerged that have shaped our approach to working with our partners and adolescents to design and implement our programmes in Bangladesh, Indonesia, Mozambique, and Pakistan
Adolescents best understand their own reality and if we let them guide us, they can lead us to those opportunities.
We all want to better work together but we need to build our mutual capacity to do so.
Our role is to let them lead and support their ability to organise, educate and agitate.
We have begun to reshape how we address food, diets and health choices in GAIN, away from telling young people what they should do, to helping them understand and shape their choices, Here are four examples 
In Bangladesh, in partnership with the adolescent leaders of the Shornokishoree Network Foundation (SKNF) we have co-designed a social movement for better quality diets and have worked with them to ensure they have the tools and capacity to provoke meaningful change in their food system. 
In Indonesia, in partnership with the Ashoka Changemakers Challenge we are working to find, and give a voice to young people who want to change their diets and those of their peers. 
In Mozambique, in partnership with the Rapariga Biz programme, we are developing activities and tools to motivate adolescent girls to improve their own diets. 
In Pakistan, we are carrying out formative research to explore the unstated and non-rational motivations that drive adolescent behaviour around food choices. This will give us a strong foundation for future partnerships and programme design. 
Supporting these adolescents to unleash the force of their own agency is only the beginning of this work. The future is theirs to design.