The 22nd International Congress of Nutrition (ICN) is being held in Tokyo, Japan, between 6th and 10th of December 2022. The ICN is a meeting of the International Union of Nutritional Sciences (IUNS) that takes place every four years. This year in fact the organizers are celebrating IUNS's Diamond Jubilee, as the first ICN was held in 1946. The theme of the congress this year is "The Power of Nutrition: For the Smiles of 10 Billion People." The aim of the IUNS-ICN is to promote the exchange of knowledge in Nutritional Sciences. The scientific programme is comprised of plenary lectures, keynote lectures, parallel symposia, sponsored symposia, and satellite symposia. Typically the Congresses are attended by 3-4000 participants from all over the world.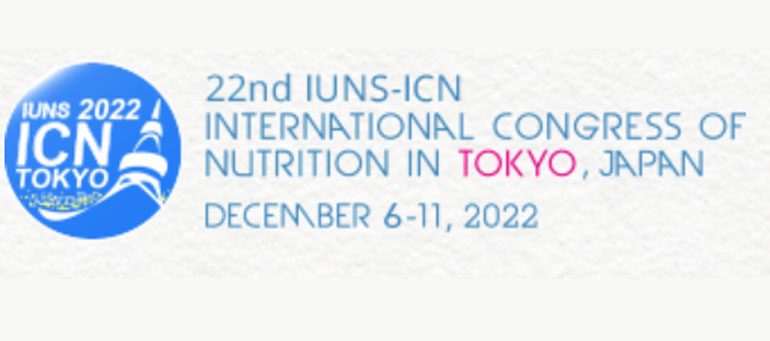 GAIN is participating in the ICN conference, across various thematic areas, addressing issues pertaining to nutrition. Some of the key areas of discussion and presentation for the GAIN team will be centre-staging diet quality, addressing hidden hunger, food choices, food fortification, diversification of dietary habits, food safety, the role of youth and adolescents in shaping food systems, ensuring food security in the context of social protection, food affordability, processed foods, and food package labelling, to name a few.  
The GAIN team puts forth global and in-country learnings and shares knowledge, data and insights gained on these thematic areas in varied formats, by way of poster and oral presentations, panel discussions, chairing discussions in seminars, and as speakers at symposiums and panel discussions in the conference. 
Host Organizations :  
Science Council of Japan (SCJ) (TBA) 
Japan Society of Nutrition and Food Science (JSNFS) 
The Japanese Society of Nutrition and Dietetics (JSND) 
Please find below the details on GAIN's participation in the ICN Conference 2022.
To read all papers and Posters presented at IUNS, please check our Resources section below. 
6th December 2022 
1. Symposium - Invigorating links between social protection and nutrition
Details: 9.00 - 12.00am JST, Room G610
GAIN Speaker: Lawrence Haddad, Executive Director, GAIN
---
2. Nourishing our Future - young people's potential to shape sustainable food environments
Details: 10.00am JST, Room G701
Registration link - https://bit.ly/iunsyouth 
GAIN Spekaer: Sophie Healy-Thow, GAIN
Young people play major roles in food systems from production to consumption and can be drivers of change. Additionally, we increasingly understand that adolescent diets carry major implications for health across the life-course. This event will bring together leading young advocates, scientists and thought leaders to discuss the implications of the Lancet Series on Adolescent Nutrition, and the multi-sectoral actions required to enable effective policy and programmatic responses for sustainable food environments. 
---
Poster presentation : Most wheat and maize flour brands are fortified but not always with the recommended quality and type of iron compound: Findings from a market assessment in 2 states of Mexico  
GAIN Authors: Svenja Jungjohann (GAIN, Switzerland), Kristin Sundell (GAIN, USA), Mduduzi NN Mbuya (GAIN, USA) 
Details : 6th December ; [Track 2] Nutrients and Nutritional Assessment 
Fortification of wheat and nixtamalized maize flour has been mandated in Mexico since the early 2000s, but micronutrient deficiency remains high. This session discusses the extent to which popular wheat and maize flour brands in Mexico meet the national flour standards in terms of micronutrient content and the effectiveness of their fortification.
7th December 2022
1. Symposium : Nourishing the future: the role of fish and fishery products for improved food and nutrition.  
GAIN Speaker : Gina Kennedy 
Details : 7 December 2022, 13:15-15:15, Room 9 
The nutrient density of fish and aquatic foods surpass that of staple grains and tubers, fruits and vegetables. This session discusses a review of availability, affordability, desirability, convenience and sustainability of aquatic foods, and considers opportunities and barriers to promote them as a healthy and sustainable food option.
---
2. Symposium: Designing and assessing food affordability: A wealth of approaches 
GAIN Speaker : Ty Beal and Stella Nordhagen
Details : 7 December 2022, 13:15-14:45, Room 14 
Affordability is a major barrier to consumption of nutritious foods and numerous methods exist for its analysis, but there is little guidance on when to use which method. Better data on all aspects of food affordability in diverse contexts is urgently needed to help guide policies and programs. This symposium brings together experts with disparate approaches to assessing food affordability.
---
3. Revealing the prevalence of "hidden hunger": global and regional estimates of micronutrient deficiencies among preschool-age children and non-pregnant women of reproductive age 
GAIN Authors: Ty Beal (GAIN, USA), Mduduzi NN Mbuya (GAIN, USA), Lynnette M Neufeld (GAIN, USA) 
Details : 16:30-18:00, Room 6, Oral Presentation 
Micronutrient deficiencies compromise immune systems, hinder child growth and development, and limit human capital worldwide. Yet the only existing estimate of the global prevalence of deficiency was from over three decades ago. In this session, we discuss research undertaken to estimate the current global prevalence of deficiency, with a focus on women and children in low- and middle-income countries.  
---
4. Panel discussion : The Future of Processed Foods 
GAIN Panelist : Ty Beal 
Details : 18:30-20:00, Hall B5(2) 
This session will be a discussion between panelists with different views on processed foods, including a member of the World Business Council for Sustainable Development and perspectives from academia, civil society, and policymakers. 
---
5. Poster presentation : Availability of global adolescent's dietary intake data: A scoping review 
GAIN Author: Kathrin M Demmler 
Details : 7th December ; [Track 3] Nutrition Through Life Course 
Dietary intake during adolescence is of crucial importance to nutrition, growth, and future health outcomes. This session will discuss a scoping review conducted to assess the quality of adolescent diets across the world and identify gaps in the data.
6.New Metrics and Assessment Tools to Support Innovative Financing of Nutritious Foods
  
GAIN Authors: Stella Nordhagen (GAIN, Switzerland), Roberta Bove (GAIN, Switzerland), Aime Kwizera (GAIN, Switzerland), Lynnette Neufeld (GAIN, Switzerland; Food and Agriculture Organization, Italy)
Virtual Room, Poster Session
Small- and medium-enterprises (SMEs) could be key to expanding access to nutritious foods in low- and middle-income countries and can be supported financially through impact investment. There is, however, a lack of defined metrics for assessment of impact investment firms. This session reviews available metrics used in impact investment and considers their feasibility and applicability to practical application by non-specialists in low-income settings. 
 
8th December 2022 
Oral Presentation: Which front-of-package label works best to help adolescents make healthier food purchases? A randomized choice experiment in Indonesia - By Aang Sutrisna 
GAIN Authors: Wendy Gonzalez (GAIN, Switzerland), Aang Sutrisna (GAIN, Indonesia), Eny Kurnia Sari 
Details : 16:30-18:00, Room 11 
Front-of-package labels (FOPLs) are a promising population-level strategy to inform consumers and discourage unhealthy food purchases, but little research has examined their impact in adolescent populations. This session reviews the effects of traffic light labels and warnings labels on Indonesian adolescents' ability to identify unhealthy products and decisions on whether to purchase them.
9th December 2022 
1. Symposium : Nutrition and food safety: Making the links to inform policy and programming 
GAIN Speaker : Stella Nordhagen  
Details : 9:00-10:30, Room 11 
---
2. Seminar : New Tools and Data for Global Diet Quality Monitoring 
Gain Chair : Gina Kennedy ; With Ty Beal presenting on 'Comparable diet quality data across countries'  
Details : 12:00-13:00, Room 5 (Lunch Session) 
10th December 2022 
1 .Symposium: The advantages and challenges of incorporating traditional foods in food-based dietary guidelines (FBDGs) for more sustainable and inclusive population guidance 
By : IUNS task Force on Traditional and Indigenous Food Systems and Nutrition 
Details : 9:00-10:30, Room 2 
---
2. Symposium: Demand creation and food choice for healthy diets in low- and middle-income countries 
GAIN Speaker : Eva Monterrosa (GAIN, Switzerland) 
Details : 9:00-10:30, Room 11 
There is increasing agreement in low- and middle-income countries that to address micronutrient malnutrition and the growing obesity burden, countries need to invest in creating demand for healthy diets. This session will cover cognitive, emotional and situational factors which affect demand for nutritious food, the ability of an intervention to change them, and programmatic applications of these findings. 
11th December 2022
1. Symposium: Advancing adolescent nutrition - progress and learnings from adolescent-led experiences from the field 
GAIN Speaker: Wendy Gonzalez (GAIN, Switzerland) 
Details : 9:00-10:30, Room 8 
Adolescents are the next entrepreneurs, taste makers, innovators and change agents; not just program recipients. Action is urgently needed to understand the perspectives of adolescents and engage them in designing programs and services that provide them with resources they need to well-nourished and healthy. The organizers will present and reflect on varied experiences with adolescent programs and policies in order to contribute to the emerging evidence on what works for adolescent nutrition programs. 
2. Poster presentation : Using the Global Fortification Data Exchange (GFDx) to Review Presence of Documentation for Mandatory Large Scale Food Fortification Legislation, Standards, and Monitoring 
GAIN Author: Florencia Vasta  
Details : 11:45 -12:15 on December 11, 2022 (JST), Room 2 (Hall C), Tokyo International Forum