Can you describe your role at GAIN?
My role is to support the implementation of projects inside and outside GAIN. I make sure that all of our stakeholders, such as representatives from government or private sector, are informed about our activities. I take care of logistics related to such activities, for example, events and bookings, and I prepare the contracts with the services providers. 
What do you like most about your job? 
I like the opportunity that GAIN gives me to carry out a variety of activities every day. These help me improve my skills and learn more in different areas, so that I can grow professionally. In the last few months, for example, I have been involved in due diligence activities for companies that have requested grant or technical assistance from GAIN. I really enjoyed working in the same areas as my studies (accounting and auditing) and being able to apply my skills. In the future, I hope to have the opportunity to be more involved in this type of work.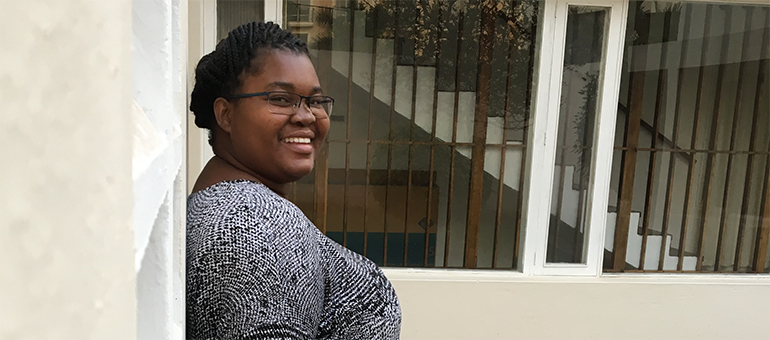 What motivated you to work at GAIN?
I am motivated by the mission of GAIN to improve nutrition all around the world and, in particular, in Mozambique where I am based. Currently, in my country, 44% of the children under five are malnourished. I hope that in the years to come this number will go down and we will be able to improve children's nutrition. 
I also appreciate the opportunity I have at GAIN to grow professionally. I joined the organisation in 2016 as an Administration Assistant. Since 2017, I am working as a Junior Project Associate for a project called "Catalyse participation of private sector in the expansion of nutrition". I particularly enjoy being part of a global organisation with teams located in different countries working together towards a common purpose.
To me, my work at GAIN means more than just earning a salary. It's a way of mobilising people and businesses in the same direction. 
Which is your greatest achievement in this role so far?
In the last months, the Scaling Up Markets for Nutritious Foods team, which I am part of, assessed companies' financial and production processes and presented potential candidates for fund investment to the Technical Advisory and Fund Investment Committee. I feel that I am helping companies to develop their processes and investments.
What is the greatest nutrition challenge in Mozambique?
The biggest challenge in Mozambique is being able to reach the most vulnerable people throughout the country. Raising awareness about malnutrition problems and carrying out behaviour change campaigns for the entire population requires a lot of resources, which are not always available. 
Which is the most nutritious food that you can find in your country?
Beans with fortified maize, flour porridge, and vegetables. 
What is your favourite food? Why?
I love grilled chicken. I like the taste, it's very easy to cook and is a very good animal protein.