How would you describe your role?
My current role is to coordinate fortification activities in the East, Central and Southern Africa region. In particular, I provide technical assistance to those countries without a GAIN office. I also contribute to positioning GAIN as a reference point in the implementation of fortification projects.
When I started at GAIN in 2013, my initial role was to oversee the implementation of the National Fortification project in Kenya, which started as a voluntary project and was then made mandatory. Later, I moved on to coordinate a USAID-funded capacity building initiative that focused on providing support to government personnel to monitor nutritious and safe foods fortified by the industry. This project involved multiple partners and various representatives from government. When the project ended in 2018, I took up my current role as Regional Fortification Coordinator.
What are the most challenging aspects of your work?
My work involves collaborating with government officials on fortification. Sometimes, before an activity can start, there are delays due to various consultations needed. Whenever other important situations arise, such as an epidemic or a severe drought which can cause shortage of staple food, fortification is often put on hold. This can be quite challenging for us working on fortification.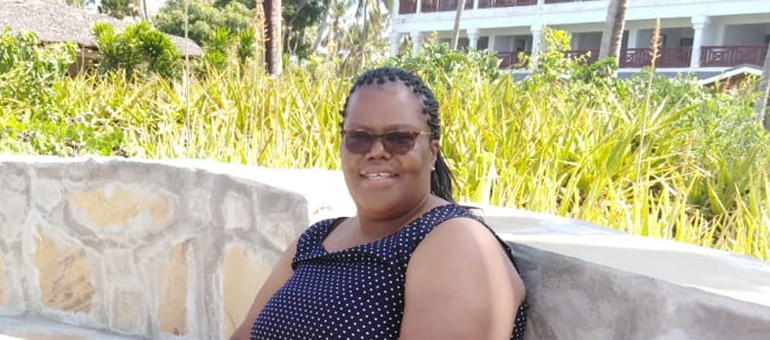 How is your work contributing to GAIN's mission to end malnutrition?
When individuals consume fortified staple foods, they significantly improve their micronutrient status, which leads to healthier lives. Fortification is known to be the cheapest and most effective strategy to distribute micronutrients to the general population. It's a very efficient way to reduce malnutrition and improve people's health, especially in low and middle-income countries. 
I also work in collaboration with the Iodine Global Network (IGN) to improve salt iodisation programmes in East and Southern Africa. Apart from improvement of quality of fortified food, I am also involved in advocacy for fortification, so that governments can set policies and allocate resources for fortification.
What are you most proud of when it comes to your work at GAIN?
I am very proud of what Kenya achieved in terms of fortification. GAIN was able to support the Ministry of Health in Kenya to set up the necessary infrastructure for fortification, mainly by developing standards and guidelines; supporting industry capacity to produce fortified foods; building capacity of food inspectors to monitor fortified foods; providing support in the development of a communications strategy, a web-based database, and a monitoring and evaluation framework.
I am also proud that GAIN's opinion and input is sought in matters related to fortification, and therefore confirms that its contribution and knowledge of fortification is respected.
Why did you choose GAIN as your place of work?
I particularly enjoy working at GAIN because I am given the opportunity to decide how best to deliver on my goals. I have the support of my manager and I feel that my contribution is valued. I also enjoy the flexible working schedule and the opportunity to work from a different location if I wish to do so. I believe that the remuneration is commensurate with my efforts. And colleagues are pleasant to work with.